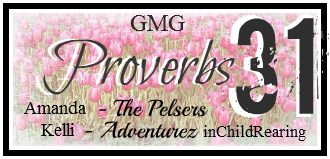 Week 2 Reflections:
Be Rare. Be Trustworthy
Here are a few thoughts from my reading this week:
Be rare. Don't worry about fitting in.
Bring honor to my husband in everything I do.
My husband should trust me.
Women are too often characterized as gossips and busybodies. I want to be seen as trustworthy and a peacemaker.
My family has two primary goals that we're focusing on right now.
Family comes first.
Pursue debt freedom.
The readings this week were confirmation to press on. Stay focused on these two things. This will bring the trust of my husband because he knows that I have the best interests of our family at heart even when we have to make tough choices. (Read more about our priorities and our pursuit of debt freedom.)
What your family goals? Do I have their attention? Who do I speak for? What will I do to raise my children in God's ways? Share in the comments and/or link up a blog post. Make sure you go visit Kelli at Adventurez in ChildRearing too! Grab the button code from this page.