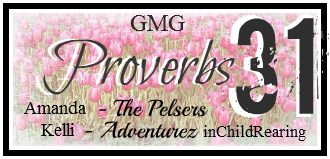 Week 1 Reflections:
Who Do You Speak For?
Who do you speak for? That phrase came back to my mind over and over again as I read. I recently read a post with a link up prompt at By Word of Mouth Musings using that phrase. Who do you speak for? Then my good friend Rebecca shared about ParentalRights.org. It really made me think. Who do I speak for?
Proverbs 31 is advice from a mother to a son. But, not just any son. He's a king. And that momma? She made a vow to raise that son in the ways of God. She entreats him to avoid things and people who could ensnare him and to speak up for those who don't have a voice.
I too made a vow before my boys were born that I'd raise them in the ways of God. I want to pass this message and many other lessons on to my sons. But, did you know that there are those actively seeking to tear this right away from you? Did you know that there are those who are trying to silence your voice are a parent?
The U.N. Convention on the Rights of the Child (UNCRC) is creeping dangerously close to ratification. What's the big deal?
This treaty, as harmless as it may appear, is capable of attacking the very core of the child-parent relationship, removing parents from their central role in the growth and development of a child, and replacing them with the long arm of government supervision within the home. –From ParentalRight.org
I implore you to read the whole explanation of the UNCRC at ParentalRights.org. It's our responsibility as parents to speak up for our kids. It's our responsibility to teach them God's ways. So, what can you do?
Watch this video:
Then:
What am I passing down to my sons? Do I have their attention? Who do I speak for? What will I do to raise my children in God's ways? What are your thoughts on Proverbs 31, on the UNCRC, and the Parental Rights Amendement? Share in the comments and/or link up a blog post. Make sure you go visit Kelli at Adventurez in ChildRearing too! Grab the button code from this page.