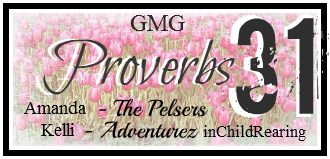 Week 3 Reflections:
Attitude Check
Here are a few thoughts from my reading this week:
Who am I working for? God or man?
Work with delight.
What's my perspective?
How's my attitude?
Be diligent.
My attitude is important. My attitude affects my whole family. This is especially important for me to remember because I deal with depression. I have to take regular inventory of my attitude and check my focus. I have to focus on joy in the middle of my depression – thus one of the reasons I named my ebook Finding Joy in Depression.
How is your attitude? How have you seen your attitude affect your family? Positive? Negative? Share in the comments and/or link up a blog post. Make sure you go visit Kelli at Adventurez in ChildRearing too! Grab the button code from this page.

Also linking up with: