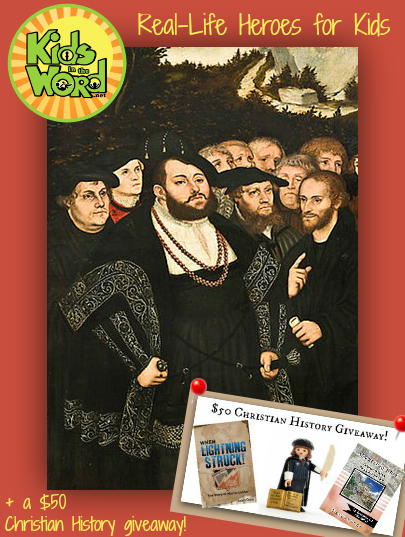 Kids are built in hero-makers, aren't they? They love to find heroes, and they're quite good at it. From Elmo and Dora to the NBA's LeBron James and the WNBA's Maya Moore, kids develop overt appreciation for others.
Where are all the real heroes?
The Bible is full of hero stories. Not all "hero stories" star a true hero in the sense of good versus evil. For instance, we don't want our kids to emulate Samson, but his life story certainly falls into the genre of "hero story." The Bible is really the ultimate place to learn about God's plan for salvation, and to see that plan carried out over generations. It's also a great place to find heroes.
Why study Christian history then?
I like to help my kids find real-life heroes in Christian history. I personally find the history of this great big family we belong to fascinating and inspiring. Reading about figures in Christian history can be a wonderful way to see God's hand in history. It can also be strengthening to learn about real, flawed men and women striving to give God their all.
Take the story of Martin Luther, for example. He lived during a turbulent period of time in history. There were knights, provincial rulers, wars, and plague. He fought for the truth of Scripture at the risk of his very life. His story includes danger, excitement, harrowing escapes, riots, and even a kidnapping. You can't find a better adventure! Knowing Luther's story gives kids a better understanding of their "family" history, a sense of the importance of the gospel and Scripture, and it can even help them think through worldview and theology.
What do scholars say about studying Christian history?
Let me help you get started teaching Christian history!
My new youth biography, When Lightning Struck!: The Story of Martin Luther is available for purchase November 1st. (Check out my book page and save 35% on pre-order!) I love giving things away, and I'm excited to share with Kids in the Word readers! Here's what I'll be sending one winning entrant:
Enter below for the giveaway!
Image: Martin Luther and the Wittenberg Reformers (Detail), c.1543, Lucas Cranach the Younger (1515-1586), Public Domain