I'm in the process of sharing quotes, tidbits, and reflections from the various sessions at the Apologia Live Retreat which I had the opportunity to attend recently.  Start here to read about my over all experience at the Apologia Live Retreat and head over to this post to read reflections from other sessions.
Notebooking with Jeannie Fulbright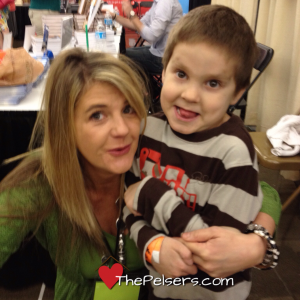 Jonathan making silly faces with Jeannie Fulbright at Teach Them Diligently
Notebooking combines:
Comprehension
Critical Thinking
Creativity
What is notebooking?
It's a book of your child's learning that replaces artificial means of assessment.
Why notebook?
Causes child to mull over and really work with material.
Creates thinkers.
Increases retention.
Uses narration.
Fully engages the child.
Notebooking can be time consuming, but it is so worth the effort.  The possibilities are endless; they can be as simple or complex and as wordy or artistic as your children are.  They can include anything from maps and postcards to field trip reports scrapbooking supplies.  It's all up to you and your child.  There are time saving options like using a pre-templated notebook or lapbook.  This can help children who panic at the thought of filling a blank page.
On a personal note, I recently found that Jonathan really enjoys lapbooking, which is a form of notebooking.  One of my sponsors, A Journey Through Learning, creates templates for a variety of subjects and curriculum to aid in this process.  We've enjoyed both Jeannie's junior notebook for Astronomy and A Journey Through Learning's lapbook for Astronomy.
Want more from Jeannie Fulbright?  See Jeannie's website.
Do you notebook with your kids?  Any favorite resources to share?