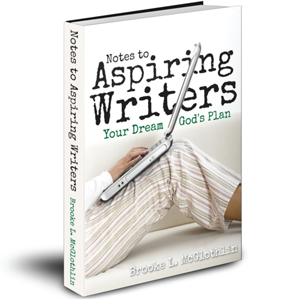 Brooke McGlothlin, the author of Warrior Prayers and co-creator of The M.O.B. Society, has released a new e-book: Notes to Aspiring Writers: Your Dream, God's Plan.  Brooke graciously gave me a pre-release copy of this new book to review.
This is book is not designed to be a tips-of-the-trade type book.  Don't start reading this book and expect to a how-to, step-by-step guide for getting published.  This book is more important than that.  This book is about laying down your dreams and picking up God's dreams.  It's about having your heart right with God and your priorities straight with Him.
God may not plan to use me in the way that I dreamed that He would. (pg. 3)
I was hooked from the very beginning.  Brooke's conversational writing style is easy to read, but her words were so profound and so true that I found myself stopping over and over again to reread whole paragraphs.  Brooke's intended audience is those who aspire to be writers, especially women and moms, but in my opinion, the truths that she lays out have a much broader reach than this small subset.
For whoever would save his life will lose it, but whoever loses his life for my sake will save it.  Luke 9:24 (quoted on pg. 9)
Similar to Brooke, I made my way through many, many years of formal schooling.  I have a BA in Bible.  I have a MA in Old Testament Studies.  But rather than translating Hebrew or writing academic papers or working in a church, my days are now spent changing diapers, humming lullabies, teaching reading, washing laundry, and cleaning up messes made by little boys (and a big boy too).  Brooke writes about what many women experience, but so few are willing to talk about; the laying down of my dream and picking up of the dream that God has for me.  The reality and the biblical truth is that nurturing and discipling my family is first and foremost God's dream for me right now.  Everything else comes second or later.
Sometimes, these two dreams coincide.  Sometimes, they don't.  In the end, God is more concerned about the condition of your heart than if someone hears "your" message.  And if your dream is to come true, your heart has to be in the right place with Him before He will bring that dream to reality.
So, whether you aspire to become a writer or your dream is to be or do something else, Brooke's words will encourage you to seek God and get in line with His plan rather than trying to run after your own.
Huge thanks to Brooke for allowing me the privilege of reviewing her book.  You can buy the PDF e-book through Brooke's website or buy it for Kindle.  Either way, it is just $2.99!
And good news for you…  I have a PDF copy of the e-book to give away!
Mandatory Entry: Leave a comment on this post briefly telling what dream you laid down or need to lay down to pick up the dream God has for you.
Additional Entries: You can do as many of these as you'd like to gain additional entries.  Just leave a separate comment for each one.
When you leave your comment make sure that you're signed into Disqus or include your email address so I can contact you if you are the winner.
Comments/Entries for this giveaway will close at 11:59 pm Eastern on Wednesday, July 27, 2011.  Extended to allow M.O.B. Society and Hip Homeschool Moms participate!  Entries will now be accepted until 11:59pm Eastern on Sunday, July 31, 2011.  I'll randomly chose the winner on Thursday, July  28, 2011 Monday, August 1, 2011.  I'll post the winner here and email that person.  If the winner doesn't respond to me within 48 hours, I'll randomly choose a new winner.  Giveaway now closed.
Brooke McGlothlin provided me with a copy this e-book and giveaway copy for free in exchange for a honest review.  Please note: This post contains affiliate links.
Teach Your Kids to Have a Devotional Time
Teaching your kids grow their own faith doesn't have to be difficult. Get this downloadable guide to help you teach your kids to have their own devotional time!