Last spring, I remembered that a friend had tried an amber necklace for their son's teething pain.  Amber (or actually, the oil that is released when in contact with warm skin) is supposed to be good for teething, rashes, eczema, sleep, reflux, have a calming effect, and more.  We decided to try one for Jacob who started teething on the very early side.
We feel like it has really helped him.
Then, last month, I saw that my friend Jen had ordered and reviewed an amber necklace.  What caught my attention was that she had worn a necklace herself and noticed that it helped her headaches.  I had been having frequent headaches, likely caused by changing hormones after pregnancy.  In addition, I carry a lot of tension in my upper back and hadn't been sleeping well.  I figured that giving this a try couldn't hurt.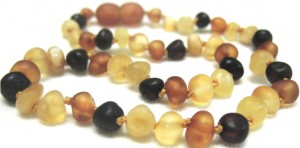 I decided to purchase an amber necklace like the one above from Inspired By Finn.  The necklace that I chose arrived within a few days.  I was quite impressed with the quality: the beads are beautiful, the cord feels strong, and each bead is knotted on either side.  I chose a 21-22 inch length.  I didn't want it to hang too low, but I didn't want it to be like a choker either.  I'm very happy with the length.
I put my new necklace on and have been wearing in nearly 24/7 for the last month.  I feel like I have seen an improvement in my sleep, reduction in headaches, and a calming that evens out some of my dysthymia symptoms.
I recently strained my hand and wrist, again.  It happens occasionally.  It seems to be a carpel tunnel type injury that flares up when I carry something too heavy with my left hand.  It usually gets worse when I'm pregnant – I saw more flare ups when I was pregnant with both of the boys.  After waking up still in the pain after this latest strain, I thought to try the necklace.  I wrapped it around my wrist multiple times like a bracelet.  In the past, the swelling and pain takes 3-4 days to go away.  With the amber beads, I saw significant improvement in 24 hours and by 72 hours, the pain and swelling were gone.
I'm a big fan of natural remedies where possible to avoid ingesting unnecessary and potentially harmful drugs.  Now, I'm a big fan of amber for both children and adults.
Check out the selection of beautiful and wonderfully made amber products from Inspired by Finn.
{Note: I paid for my necklace and shipping, but did receive a discount in exchange for an honest review.}