A Journey Through Learning
joined The Pelsers as a sponsor this month.  I introduced you to
A Journey Through Learning
a couple of weeks ago and I had the opportunity to meet Nancy and Paula in person while we were at Teach Them Diligently.  Sweet ladies with a heart for homeschoolers!
We were given the opportunity to review A Journey Through Learning's lapbook that goes with Apologia's Astronomy book.  We've loved learning about Astronomy this year so Jonathan and I were both excited about trying this lapbook.
Jonathan didn't want to go to sleep on a Friday night earlier this month, so I suggested to him that we start working on our science lapbook.  So, at 8pm on a Friday night, we jumped in.  Jonathan was so into it that we worked for almost 2 hours creating this lapbook for the first lesson:
The Cover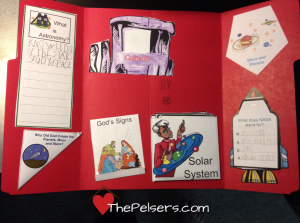 Completed Inside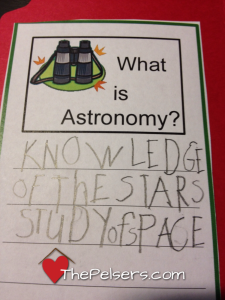 Close-up
A word of warning:  There is a lot of cutting with these templates.  Now, this isn't necessarily a bad thing, but it is time consuming.  I did the cutting to speed things up for Jonathan.  I laid everything out so he could write and paste without being bogged down by the cutting.
Let me just say, Jonathan now loves to lapbook…  He's been asking to lapbook through everything!  Thank you to A Journey Through Learning for introducing us to this wonderful way of learning!  We're going to have a lot of fun doing the rest of the lessons.
You can get this Astronomy lapbook as a printable download in color or black & white for $20.
{Material Disclosure:  A Journey Through Learning provided me with this lapbook template printable download in exchange for an honest review.}