Jonathan loves using my iPad, our iPhones, and our iPod touch.  He's an Angry Birds addict like his daddy.  There are so many great apps out there that can reinforce our homeschool studies.  I'm on a mission to find some!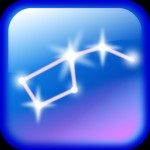 I came across the Star Walk iPhone and iPad apps a few weeks ago through Moms with Apps.  When I saw it, I knew it would be a perfect addition to our Astronomy studies.
Josh and Jonathan have taken the telescope out a few times to play and explore.  Here are a few things that we liked and observed about the app
Josh felt like the Star Walk iPhone app on my iPhone 3GS performed better than the Star Walk iPad app on my iPad 2.  My guess is that this has something to the installed hardware and GPS.
We live somewhat in the country, but we're still too close to the city of Charlotte.  There's a lot of city light that comes through at night making it difficult to see some of the stars.  Obviously, this doesn't have much to do with the app except that we are thinking about planning a trip somewhere and take the app and our telescope where it is darker at night.
I have a hard time visualizing the constellations.   This app made it easy to "see" the formations in the stars.
Jonathan had a lot of fun with it.  He keeps asking to take my phone and the telescope out at night.  That's a win in my opinion!
Here's a screenshot of a constellation on the from the developer's Flickr stream:
Here's a video from the developer showing you some of the features of Star Walk:
Can't see the video in your email or RSS reader?
Star Walk for iPhone is available for $2.99 and Star Walk for iPad is available for $4.99 in the Apple App Store.

Bottom line?  We we will using this app a lot this year as we continue to study Astronomy.  A great app.  Highly recommended.
Note: At my request, Vito Technology gave me promotional codes for Star Walk for iPhone and iPad in exchange for an honest review.  Prices notes were accurate at the time of posting and are subject to change.