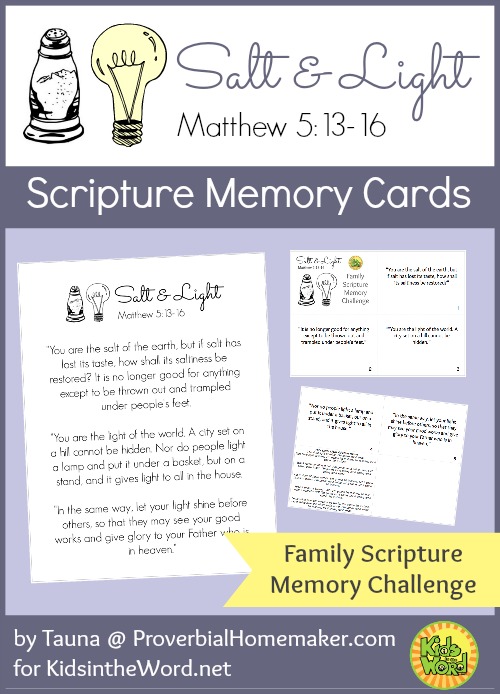 The June scripture cards are here for the Kids in the Word Family Scripture Memory Challenge!
We're continuing our focus on the Sermon on the Mount (last time was the beatitudes). Don't you love to dwell on the words of Jesus? I know I do! Our kids will be blessed to have these verses committed to memory. Although it's a short set of cards, we have had some long ones these past few months so it should all work out ok. 🙂
I've also included a card with the song This Little Light of Mine if you haven't taught that to your kids yet. I know mine know most of the verses but not all of them!
Salt and Light Scripture Memory Cards Printables
Use the form at the end of this post to request your free memory cards to help your kids memorize Matthew 5:13-16!
Here at Kids in the Word, you can find more ideas and resources for memorizing scripture. Pick some to try out and get started today! It's a great activity to do in the car, around the dinner table, or during a bedtime routine. Few things are more worthy than hiding the Word in our hearts!
Salt and Light
Get these printable cards to help your kids memorize Matthew 5:13-16 on being salt and light.