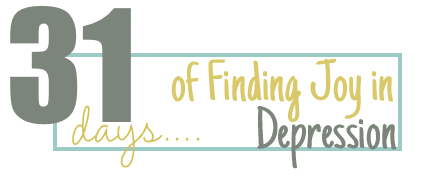 This is day 28 of 31 Days of Finding Joy in Depression. Yesterday, I shared about prayer and depression. Today, I'm talking about scripture and depression.
Reading scripture goes hand in hand with prayer.  This is how God speaks to us.  Scripture tells us the truth about who God is and who we are.  This is vital to managing your depression.  You must know how God sees you!
Here are a few of my favorite resources for reading and studying scripture:
I'm currently going through 1 John with Good Morning Girls.  I love connecting on Twitter and through blogs with other ladies who are reading 1 John with me.  I use the SOAP method in a notebook along with You Version and Logos to really dive into the passage each day.
How do you read scripture?  How does scripture affect your depression?
If you deal with depression, please comment and share your journey too.  If you're a blogger, you can use the button and code below to share your story and link back on your blog.  Feel free to leave links to your posts in the comments area.

I'm linking up with The Nester and others who are writing 31 posts this month on various topics.  I'm not a doctor or a counselor and this is not intended to be medical advice.  This is simply the story of my experience with depression.