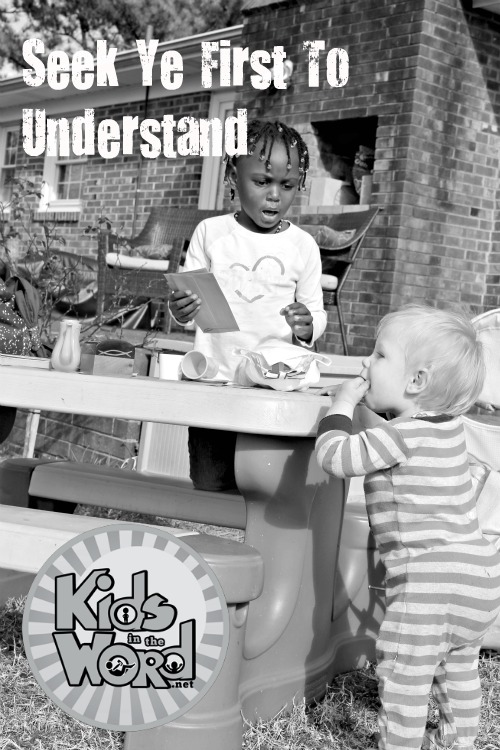 My pastor introduced me to a particular phrase from Stephen Covey that has literally changed my life: "Seek first to understand, then to be understood."
Prior to learning this phrase (and imprinting it on my heart) I was the WORST at trying to get my point across. I've heard that people with a short(er) stature feel the need to fight for their place, so maybe this is my 5'1/2″ self's way of trying to make sure I am heard and understood.
Regardless of the reasoning behind it, this compulsion to jump to conclusions and speak my mind has had a way of driving a wedge in relationships and/or missing God-orchestrated opportunities to be "quick to listen and slow to speak," which is actually the best recipe for being the best friend, wife, and mother God wants us to be.
My dear brothers and sisters, take note of this: Everyone should be quick to listen, slow to speak and slow to become angry, because human anger does not produce the righteousness that God desires.

James 1:19-20
The first area of my life that I found to be lacking in this concept was in my marriage.
For lack of a better example (which has seemed to escape me), I will relay a bit of comical relief. Many times I'll ask Josh to make deposits for me at the bank since it shares a parking lot with his work, making me well aware of his ability to do this task WITHOUT ME. Sometimes, though, I am actually in the car with him when this task needs to be carried out. We will drive up to an ATM to make the deposit, and that's when it begins. My mouth begins spewing words of instruction at a faster rate than he can read them on the screen, causing a slight twitch in his left eye and small puffs of smoke to come out of his ears.
Just kidding, but in all seriousness, have you EVER had someone talk to you while you are trying to do something important, like deposit money in the bank?!  Confusion? Absolutely! Helpful? I think not.
Somehow, I have set in my mind that MY WAY is the best way and that a task will not be done correctly unless I speak up and give the instruction. But this way of thinking gives no freedom for the other party to think and do things in their way.
I quickly began realizing that I wasn't so good at this concept with my friends either.
Who had an answer to every marital spat or parental decision? Well, ME, of course! Or at least I thought I did. I would chime in whenever anything popped in my mind, whether I was asked or not, to give my wonderful input and advice.
Sometimes, input and advice were what my friends were searching for. Other times, just brainstorming would suffice. But more often than not, my friend(s) just needed a listening ear and someone to help them verbalize what they were going through.
The last major area I found that I needed to work on was in my parenting.
I am so quick to hear part of an argument or see the results of something that was CLEARLY done in defiance, find the suspected culprit, and begin dishing out appropriate consequences.
Only, upon further investigation, I often found that I was wrong. The squabble was justified and the kids were working it out on their own. The marker on the couch was Jude finding a marker hidden in the crevices of the cushions, NOT the 5-year-old being absent-minded (again!) and forgetting to put the markers away. The spill on the floor was a sibling helping her sister pour some more cereal, and the freakout was a result of a "gift" for a loved cousin being damaged.
Being so quick to get my own point across only results in a LOT of apologies. I know this phrase is geared toward conflict, but I have found it particularly helpful as I strive to be a better listener and a slower reactor.