We're blessed to have Eileen Miller sharing her thoughts on this first week:
What a wonderful opportunity to be in Amanda Pelser's book club to discuss the book Shepherding a Child's Heart by Tedd Tripp. He has an amazing insight into what families need to be able to grow and prosper through the use of biblical counsel. It is a beautiful concept in parenting for us to change and direct the behavior of our children by addressing what really lies in their hearts. If we do not study the Lord's ways, it is easier "to get sidetracked with just the behavior (on the surface) when issues of the heart are clearly so much more important" to reach an ability to achieve real lasting and permanent virtuous outcomes. God made this possible for us by sending His Son to live with us. How dare we forget this reality! Jesus, Himself, is the one we establish a relationship with so that we receive proper guidance on the ways to SHEPHERD our child's heart. Jesus is the master and ultimate teacher as our own Good SHEPHERD. SHEPHERDING is the Lord's trademark and is His area of expertise. This is why it is so beneficial to emulate the ways of the Lord to attain effective parenting when we strive to SHEPHERD our children.
Shepherding changes the whole approach to discipline and correction which public schools are lacking in and can not be as effective as parents…especially for the younger child…because Christ is not the center of their focus. The public schools "control" the behavior of children through the pressure felt by the child to conform to the beliefs of the majority. This is a very powerful tool that even too many politicians utilize at the expense of important principles. It is a marxist technique with a goal of eventually making us merely pawns of the state. This is "why marxists are always justifying things like propaganda and purges of politically incorrect dissidents, in the state or the university." (The Journey by Peter Kreeft) If this detrimental technique takes root in a young persons soul, they will be easily swayed by the crowd for the rest of their lives. The schools also focus on "self-actualization" as a goal to give children confidence. Unfortunately, the schools approach to this may give students confidence in loosing their real identities without Christ as a guide. Confidence to act out and belief things that conflict with our Christianity can be difficult to correct. A child's confidence must be in their choice to know, love, and serve the Lord. Many have even forgotten what it means to be an American and have learned to be confident with this belief and attitude.
These methods of teaching usurp the time-honored Christian principles needed to guide our children to truth. The Lord is the only one who can help us to know ourselves. He doesn't exist in our public schools. Our children need a vision that has Christ at the very center of their lives who gives them the fortitude to withstand peer pressure and the ability to conquer any selfish (what's in it for me) attitudes. When we strive to emulate Jesus, his grace is poured into our very beings so that we can attain a vision to see beyond what is only on the surface of behavioral issues in our children and really reach into their hearts with loving actions and words from our Savior. They, in turn, will carry the love of Christ forward in their own lives.
Tedd Tripp points out that he has witnessed children who reach the age of 10 or 12 that "have effectively left Mom or Dad as an authority or reference point for their lives." Most likely, their parents only wanted to have children for the sake of having children…without the necessity of being a parent during the child's earlier years. In my homeschooling article, note the comment "Life giving doesn't end after a child is born. It is in giving to our children the knowledge, virtues, and attitudes that Christ teaches us in all things that we are rewarded."  These are rewards which come from our Good Heavenly Father…so don't look for merely material rewards. We need to take the responsibility of parenting seriously and meet it head on…heart to heart with our young children.
The early childhood years are so delicate and important for children to learn the ways to know, love, and serve the Lord. This is why SHEPHERDING our children is a direct reflection on the ways of the Lord. Our children know God through Gospel values, love for God grows the more they know His ways and participate in the sacraments, and then begin to step out to serve the Lord by serving their neighbors. We have a profound Good SHEPHERD whose "authority is kind, helps our children realize their true purpose in life which is intricately tied to identity, and brings all into the sheepfold of a loving Christian family by infusing the Gospel into one's vision to "internalize the good news." As parents, our biblical counsel and emulation of the Lord is unmatched to any other form of education.
Tedd Tripp points out that excercising authority with instruction from the Lord may keep our children closer to home or at least coming back often. "Children rarely run from a home where their needs are met." There is a huge trend for young people to travel to distant lands in order to be fulfilled or important. This is all very good (and expensive) but I often wonder if it is always so necessary. Remember what Dorothy in the Wizard of Oz said? Something like, "You will never be happy, if you can't find happiness in your own backyard." No matter where life takes our children, home should be a place that brings them joy. Can this also be the result of children who do not learn about the goodness of our Founding Fathers and their own 'homeland?' If our children do not like or understand our family's or country's values, they may not want to stick around, or worse, try to change these values. Parents can teach their children important family values and the importance of the Declaration and Constitution. Home is definately where the heart is and needs to be the focus for the very young child.
"This SHEPHERDING process is a richer interaction than telling your child what to do and think. It involves investing your life in your child in open and honest communication that unfolds the meaning and purpose of life." My website focuses on a fun way to enhance the communication between you and your children. Anyone can do this. The goal is to eventually teach your children to formulate questions themselves that require well thought out answers with the assistance of biblical principles that help them reach conclusions. In a nutshell, it is basically having deep discussions about stories and/or novels. Later, I will send you a sample of one of the stories and questions one my homeschooling classes for first through fourth grade students had as an assignment. I will post it on the Shepherding a Child's Heart facebook link. It takes time and patience, but is a lot of fun once you get started. You can also check out my little blog that explains what parents can do for beginners.
There is no mistake in God's plan that Our Lord was born into a traditional family unit. The bible even refers to him obeying his foster father and mother while Christ is the real master at SHEPHERDING. His whole life points to the goodness and benefits of traditional family values. It is the traditional family that benefits society and should direct the efforts of our economy because this is where truth and real virtue grow. Parents have the most vital role to play here.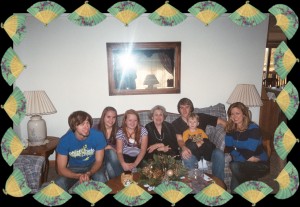 My name is Eileen Miller and I've lived in the state of Maryland for most of my life and grew up with loving parents and a father who spent 27 years serving in the United States Navy. I love my faith, country, and family. My husband and I have been married for 25 years and have incorporated our love for faith, country, and family into the education of our five children during their elementary and middle school years. My four oldest have been blessed to be accepted at wonderful private high schools that have strong orthodox theology departments as you can see our faith is the NUCLEUS of our lives on
my website
. Next year I will only have a first grader being homeschooled.
What were your thoughts on this week's reading?  Share in the comments and/or link up a post.