How many times have you wished that motherhood came with an instruction manual? You know, a guide for raising kids?
Dr. Todd Cartmell, a clinical child psychologist and dad, has written a book that is at least a partial guide for parenthood. It's called 8 Simple Tools for Raising Great Kids. While I'm not sure anything is easy when it comes to my boys, Dr. Cartmell does try to make his tips simple for any parent. I was given a copy so I could take a look at this new book and share my thoughts with you.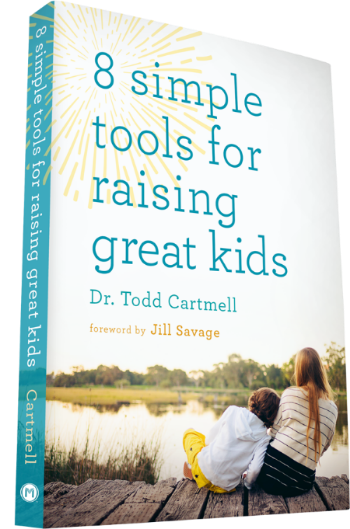 Those simple tools are:
Talking
Listening
Influencing
Connecting
Teaching
Encouraging
Correcting
Leading
Each tool is broken down over the course of 5 short chapters. Each chapter is only about 4 pages and can easily be read in a short sitting. Dr. Cartmell gives examples from interactions with kids he has counseled and from situations with his own kids to help make his points. The end of every chapter leaves you as the parent with a super simple and memorable tip and questions to help you implement the tip in your parenting.
Here are a few of my favorite quotes:
"If you are a parent who talks and listens to your kids, influences them with the power of your words, connect with them, teaches and encourages them, corrects then, and leads them through your example, then I believe you will change the trajectory of their lives." pg. 14

"If you're not sure what to say, a brief pause can make all the difference between wise words and hurtful ones." pg 23

"Every problem has one or more good solutions. Your kids can learn to find them." pg. 120

"When you point out your kids' positive traits each day, you help them see the person God is helping them become." pg. 114

"Kids often make the mistake of remembering their mistakes and forgetting their successes." pg. 145
I like Dr. Cartmell's simple and straight forward writing style. His stories help drive his point home and make the tools memorable and practical.
You can get 8 Simple Tools for Raising Great Kids for 50% off through Moody Publishers from 4/15/16 through 5/15/16 using the code GREATKIDS16. Prefer Amazon? You can find it there too. There are some great freebies to go with the book. Just fill out the form on the 8 Simple Tools website to gain access. You can also read the first chapter of the book for free.
Disclosure: I received a copy of 8 Simple Tools for Raising Great Kids from Flyby Promotions in exchange for an honest review.