Karen DeBeus has released a new revised 2nd edition of her ebook Simply Homeschool. I'm honored that Karen agreed to write the forward for my ebook Be Thankful. She's a mentor to me from afar in homeschooling and simple living. She sent me a copy of this new edition of Simply Homeschool so I could take a look at it and share the release with you.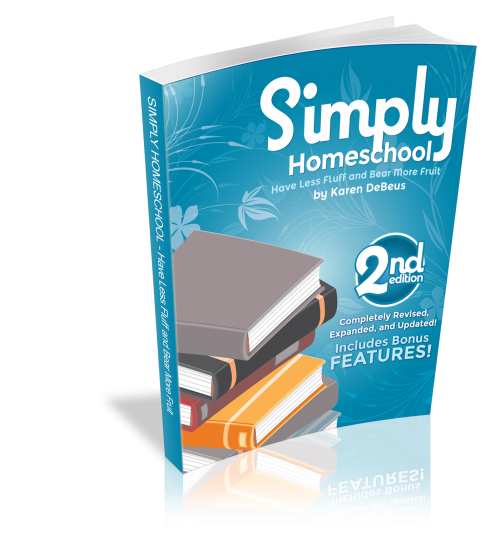 All homeschoolers feel discouraged or frustrated at times. But, here's the reality: we often do it to ourselves because our focus is in the wrong place. Is your focus on the world or word? Through Simply Homeschool, wants to say this…
"I want to tell you to stop.

Slow down.

Stop chasing.

Stop striving.

Stop making about it about the world.

Make it about Him.

This world and all it has passes away, but He is eternal."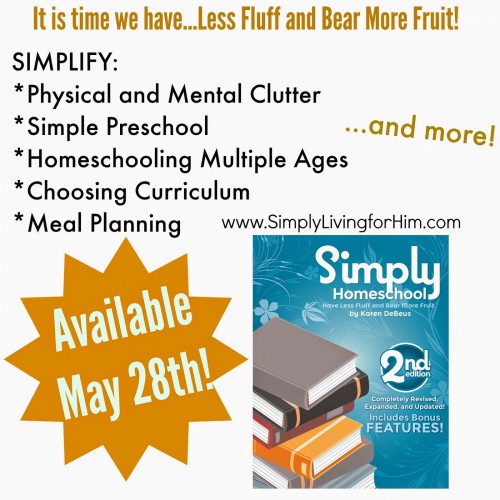 The 2nd edition of Simply Homeschool has all of the great material of the first, but Karen has added:
New Simply Preschool chapter
Reduce Clutter- Physical and Mental
Homeschooling Multiple Ages
Scheduling
Choosing Curriculum
Meal Planning
Plus she put in some bonus features:
One Week To Simplifying Plan
Tips for Homeschooling Multiple Ages
And More!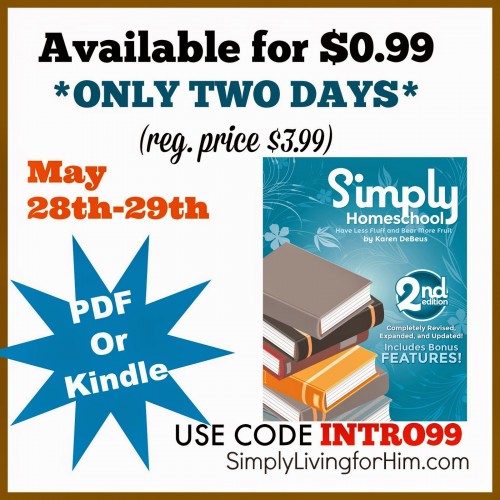 Simply Homeschool, 2nd edition is now available, and for the first two days, it is just $.99. After that, the price increases to $3.99. What is your preferred ebook version?
Kindle? Get here from Amazon.
PDF? Get it here through e-junkie. Make sure you use the code INTRO99 to get the $.99 price.
Material Disclosure: I received a free copy of Simply Homeschool.
Teach Your Kids to Have a Devotional Time
Teaching your kids grow their own faith doesn't have to be difficult. Get this downloadable guide to help you teach your kids to have their own devotional time!