Earth Day is coming up soon. I used to get a little "up in arms" about this day because I felt like it focused more on the creation than the creator. Yet, like all things, it is really what we make of the day that will fashion the way our kids view it.
In my family, we choose this as an opportunity to talk about how God created the world. Here are a few easy ways (and a fun printable pack!) that will help you make the most of Earth Day, teaching your kids about the Creator and the importance of caring for His creation.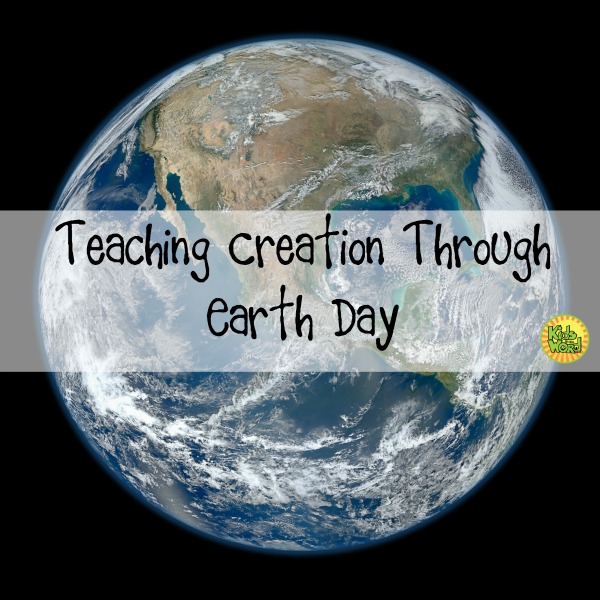 The first thing that is important to tell our children is who created the world. This is a foundational truth for more reasons than just to make sure our children understand creationism. It is important because it gives validity to the Word of God and it helps them understand the Creator who created them, and the Savior who came to save them.
The first thing that I always do during Earth Day "Week" is teach on creation. There are a lot of great resources out there for teaching about creation, but I have made some great ones that you can get below. Included are sequencing cards, handwriting journal pages, and a memory verse page! I hope that this pack will encourage you to talk to your children about creation and about the wonderful world that God made.
I use paper plates to help make a creation book with my kids each year. This has been a fun project to watch evolve over the years because each year, their skill level changes. Below are each of the days of creation, and what we do to our plates.
On Day One – God created day and night. So, we talk about things we do in the day and what we do at night, and the importance of both day and night. I also talk to them about how Jesus is the light of the world. On this day of our project I draw a line and have them paint or color one side yellow and one side dark. This is a great opportunity to talk about how we were once in darkness but now, we can walk in light!
On Day Two – God created the atmosphere. That is a big word! We usually use dictionary skills to look this word up and write the definition (or trace it). For our craft, we will paint the top of our plate light blue and the bottom to look like water. I have also used torn tissue paper for the water.
On Day Three – God created plants and trees. Today, we will paint a plate with a blue sky and then make it look like a garden on the bottom. I also make sure we do some planting of our own – garden time! I usually do some real planting outside, we clean up some trash (there is usually trash – we play outside a lot!) and we plant new flowers. When my youngest was little, we planted pretend flowers in our sand box. We also make funny faces on styrofoam cups and plant some grass seed. When it grows, it looks like funny hair! This is also a great day to go look at flowers at a garden. If you have older children, let them take pictures of flowers!
On Day Four – God created the sun, moon, and stars. Today, I have the kids paint the plate black, and then we add the sun, moon, and stars. We have used stickers before. We have painted them before too. This is also a great day to get styrofoam balls and make your own planet. It is fun to have kids talk about what they would put on a planet, or what their planet would look like.
On Day Five – God created the fish and birds. Today, have your child paint their plate like they did on day two. Have them cut out pictures from magazines of animals that fly and swim.
On Day Six – God created the animals and mankind. Today, I have the kids color their plate to look like the garden and put animals (either foam or coloring page ones) and a person on the planet.
On Day Seven – God rested! On this plate, I always have them write the words "God Rested" with a smile face because God was pleased with His work!
We are fortunate enough to live in a town that has a zoo and a garden. So we take two separate trips, one on day three and one on day six. Our local museum has been known to do solar system ideas as well, which is great for day four.
The other thing we talk about a lot is stewardship. We talk about how God gave the earth to us for our home and we need to be good stewards of that. We talk about ways that we can be a good steward of the resource God gave us.
I hope these ideas will help you as you talk about the wonderful world God made us this Earth Day! Be sure you get your free printable pack!
Worshiping With My Life,
Mandy