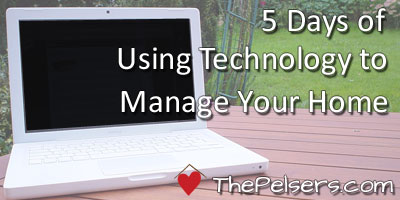 Welcome to Day 4 of my 5 Days of Using Technology to Mange Your Home Series.
Schedules. Calendars. Keeping track of the who has to be where and when. Does it drive you crazy? We only have littles right now so our calendar is manageable at this stage, but it could get out of control very quickly. So how can you use technology to manage your calendar?
Google Calendar
My program of choice is Google Calendar. Here's why:
Easy to add events to.
Easy to share calendars and single events with others.
Easy to add additional calendars.
Easy to color code.
It's all about easy. If it's not easy, you won't use it.
Josh and I each have our own calendars tied to our Google account. We share those calendars with each other. Here's how you do that: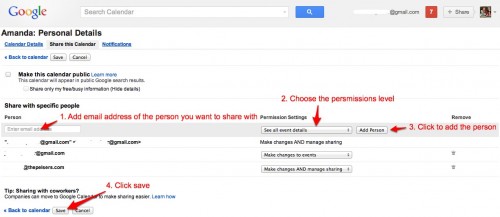 Click the image to view larger.
In your Google Calendar, go to Settings > Calendars > Click on the share or edit settings for Calendar you'd like to modify. By default, you only have one calendar, but you can add more.
Add the email address of the person you want to share with.
Choose the permissions level.
Click add the person.
Click save.
How do you decide what permissions level? Here's what Josh and I do:
We both have rights to view and modify events on each other's calendars.
We usually do not put events directly on each other's calendars, but could if needed.
We use the invite feature on events.
For sharing with children, I would recommend view access only on your calendar, and full permissions for you on their calendars.
How do I share an event?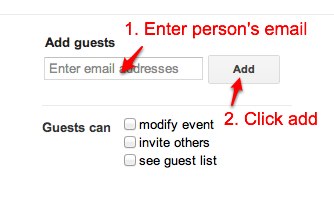 When you create a new event on your calendar, you have the option as seen in the screen shot above to add a guest. When I want to make sure that Josh knows about an event on my calendar or when he needs to be present for an event, I put in his email address and click add. When I save that event, it sends him an email invitation prompting him to accept or reject the event for his calendar. That notification is key for us. If I put the event on his calendar for him, he might not know it is there until the last minute. Josh might not notice an event on my calendar, so if it's important for him to know where I am, I add him as a guest so he gets the email invite. I can put in the notes area that the event is just a courtesy or he needs to be there. We have one car and a motorcycle. This system helps us manage that vehicle situation. It's easy for Josh to see if I have plans scheduled for the day making it necessary for me to have the car.
How many calendars?
I split up my personal and business events into two calendars. I also keep a calendar for bill due date reminders. As the boys get older, I will create separate calendars for them. When they are old enough for their own accounts, I will have them manage their own calendars and share them with me. I also have Josh's shared calendar. I color code each calendar. I can turn them on or off in my view as needed. It's easy to see where the openings are and make sure that events do not conflict.
What about on the go?
I'm an iOS gal, but my system and ideas work across mobile devices. I have all of the calendars I mentioned on my iPhone. I can use a web browser, iCal, my phone, or my iPad to view any of my calendars.
I also use the reminders feature on events:

I can set reminders that will pop up in my browser if I'm logged into my Google account and on my phone. I can have my calendar send me a reminder email at my desired time before the event.
It comes down this for my family using technology to manage our calendar:
Accessibile across devices.
Reminders.
No confusion as to where each person should be and when.
I haven't used it, but I've also heard that AboutOne.com has family calendar sharing features:
What do you think of Google Calendar as a way to use technology to manage your calendar? Need help with Google Calendar? Other favorite applications for calendar sharing? Leave a comment!
Come back tomorrow for Day 5 of Using Technology to Manage Your Home.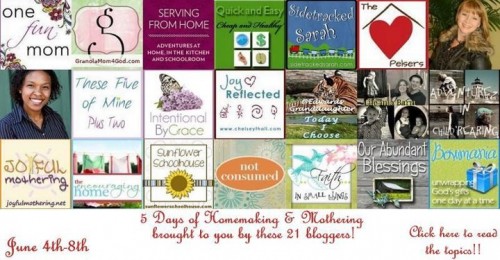 Please be sure to visit all 21 moms who have banded together to bring your the 5 days of of mothering and homemaking series:
This post contains affiliate links.