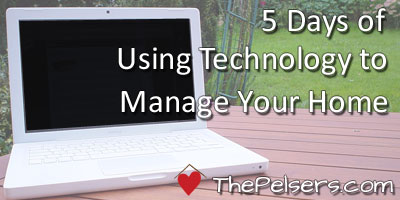 Welcome to Day 3 of my 5 Days of Using Technology to Mange Your Home Series.
Raise your hand is you have notes and papers everywhere and your computer files are just as messy? Are you trying to keep important information in your email? Stop! There's a better way!
Evernote
I keep my whole life in Evernote. I happen to have the paid account, but the free account is more than enough for many people. It's available for desktop, browser, and mobile. Using an Evernote account, it's easy to access your notes across devices.
Evernote is made up of a system of folders and notes. You can put just about anything – text, pictures, and files into a note. Notes can be tagged with keywords to make them easier to find the information you're looking for.
Here are some ways that I use Evernote:
Scan and store receipts.
Store PDF freebies and purchases for homeschooling.
Forward emails using the special email address for my account.
Email in blog posts that I want to save from my RSS reader.
Clip recipes and other information using the web clipper extension.
Sharing notes from conferences.
Sharing information with my husband.
Store scanned paper – paperless filing cabinet
Don't let
Evernote
scare you. It is actually a very easy to use program. It a great way to eliminate random pieces of paper floating around your house. Paired with a mobile device,
Evernote
can be a go anywhere note-taking solution.
Dropbox
Dropbox is for storing and sharing files. I keep larger files in Dropbox that I want to access from anywhere or don't want to lose. Here are some of the ways I use Dropbox:
Storing ebooks to read on my iPad.
Sharing files with my husband.
Sharing files with my VA clients.
Backing up files I don't want to lose.
Dropbox accounts start with 2GB for free. You can purchase additional space if you need more. If you sign up for Dropbox using my link, you'll get an extra 500MB of FREE space – That starts you off with 2.5 GB of space for free.
What do you think of these two ways to use technology to manage your files? Need help with either one? Other favorite applications? Leave a comment!
Come back tomorrow for Day 4 of Using Technology to Manage Your Home.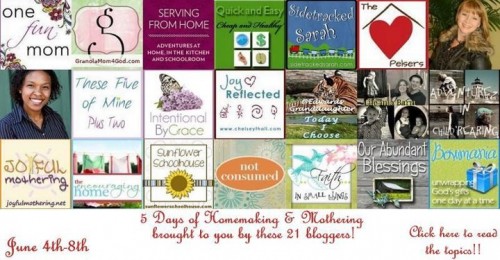 Please be sure to visit all 21 moms who have banded together to bring your the 5 days of of mothering and homemaking series: