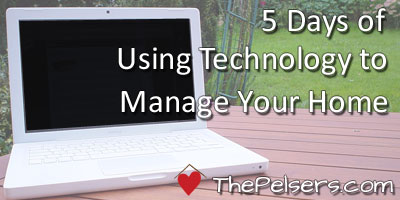 Welcome to Day 2 of my 5 Days of Using Technology to Mange Your Home Series.
First things first. Before you can manage anything else well, you need to be working on your spiritual life. Technology can help. Do you use technology to manage your spiritual life?
YouVersion
I use YouVersion all the time. I have the app on my iPhone and my iPad. When I quote scripture and link the reference in a blog post, I use YouVersion. I use it in church. I use it when I need to search for a verse or passage. I use it to read scripture to Jonathan when he's working on his Grapevine Studies. Seriously, I use it all. the. time.
YouVersion is developed by LifeChurch.tv and they've made it available for FREE with many Bible versions. The app is even available in many languages in addition to English. You can use it on a web browser or just about any mobile phone/device. YouVersion is one of my must have apps.
Additional features: Public and privates notes, community, highlighting, reading plans, sharing to social networks, and more.
Logos
Logos has been around for many years. I purchased my large library collection while in seminary and still use it today. Their desktop applications are pricy, but well worth the cost for someone who wants advanced Bible searching capabilities and commentaries. The base application is free on the desktop, but you'll have to purchase a library package or single books for use in the program.
Logos has expanded into the mobile market. Their app for iOS is free and includes access to a number of commentaries and resources for free. If you have purchased a package with Logos for your desktop, you can log in on the mobile app to access those books too.
I use Logos mostly for original Biblical language studies, commentaries, and other more detailed study. Don't let that scare you; the free Logos apps are well worth trying out for your regular study.
Bible Studies
There are countless ways to study the Bible. Online groups have become one of my favorite ways to study. Here are a few places to start:
Good Morning Girls – These studies run in 3 month cycles and are based on the SOAP (scripture, observation, application, and prayer) method of study. These studies usually take you through a full book of the Bible. You're encouraged to join a local or online group and not go it alone. I've been leading a group and enjoy the regular online interaction throughout the week. If you'd like to join my group, send me a message or look around the blog to find out what the current study is and request an invite to the Facebook group.
Hello Mornings – These are online accountability groups that focus on getting up early, spiritual disciplines, and physical activity.
Ebooks – Feed your ereader or mobile device with some devotional books or Bible Studies. Ebooks are easy to take with you on the go. Most ebooks and devices make it easy to highlight and make notes as you're reading.
I haven't given up my paper notebook/journal. I use the printable guide/journal from Good Morning Girls each session along with a paper Bible. There's something about writing out those scripture passages that helps me commit the words and ideas to memory. On the days that I have a little more time, I use my electronic resources and apps. So, I'm not telling you to completely give up your traditional paper methods in order to use technology to manage your spiritual life. Paper and technology can coexist.
Because much of what I've introduced today is free, I suggest that you try out those things that interest you and see what works for you. I'd love to hear what you think of these resources. Leave me a comment and tell me which ones you like or didn't like and why. Other favorite technology to manage your spiritual life or questions? Leave those in the comments too.
Continue on to Day 3 of Using Technology to Manage Your Home.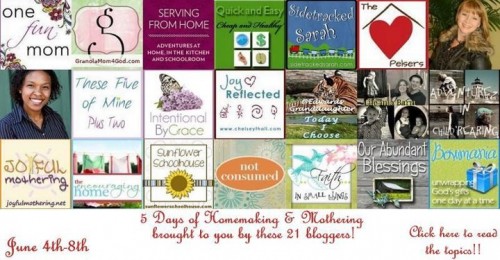 Please be sure to visit all 21 moms who have banded together to bring your the 5 days of of mothering and homemaking series: