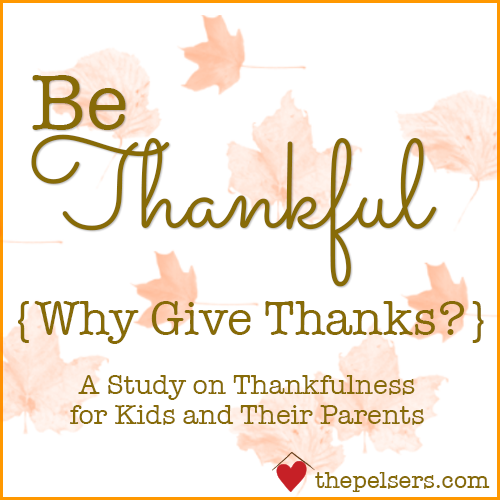 We talked in the first post about what thanks is. Before you can wrap your mind around why to give thanks, you must have a good understanding of what thanks is. Jump over to this post to learn more about the definition of thanks and get a FREE printable to help your kids draw and write about the meaning of thanks.
Why Give Thanks?
It is God's will that we give thanks.
First Thessalonians 5:18 says that we are to "give thanks in all circumstances; for this is the will of God in Christ Jesus for you." (ESV) No matter what is going on around us, God has called us to give thanks.
Not giving thanks shows a foolish, hardened heart.
In Romans 1:21, Paul explains that "for although they knew God, they did not honor him as God or give thanks to him, but they became futile in their thinking, and their foolish hearts were darkened." (ESV) The foolish refuse to give thanks; a wise man gives thanks to God.
Thankfulness is so important to God that He had Israel appoint groups of Levites to give thanks.
In 1 Chronicles 16, David is overseeing the putting of the ark into a tent that had been put up for it. In verse 4 we learn that "then he appointed some of the Levites as ministers before the ark of the Lord, to invoke, to thank, and to praise the Lord, the God of Israel." (ESV) A group of Levites was appointed to make sure that thanks were given to God.
Be Thankful Activity – FREE Printable
Talk with your kids about why God wants us to give thanks to Him. Have your kids trace or copy 1 Thessalonians 5:18 using this FREE printable copywork pack.
Why Give Thanks
Free printable for kids to journal about why they should give thanks.
More on Thankfulness
Looking for more resources to teach your kids about Thankfulness? Take a look at this study I released at Kids in the Word… Be Thankful: Cultivating Year-Round Thankfulness.