My friend Dee makes the best cinnamon rolls.  She made some for us a few months ago when I was nearing the end of my pregnancy with Jacob.  They are amazing.  Look at this post on her blog teasing everyone with them.
She finally shared the recipe in this post.
I couldn't wait to jump in and make them myself.  Her recipe makes 24 rolls.  I cut the recipe in half.  I knew that many cinnamon rolls would be dangerous in my house and I wanted to use my food processor instead of my mixer.  Here is one of mine: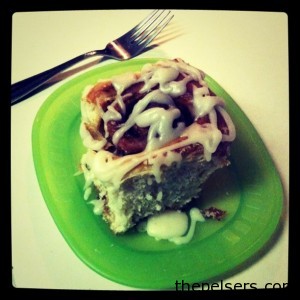 They were so yummy and massive!  Since Josh cannot have cheese and I'm dairy-free for Jacob right now, we couldn't have cream cheese icing.  Instead, I made a simply vanilla powered sugar icing to drizzle over the top.  They were a huge hit with Josh and Jonathan.