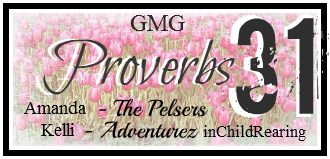 Week 9 Reflections:
Out of Her Mouth
She opens her mouth with wisdom,
and the teaching of kindness is on her tongue.
Proverbs 31:26
I've had a rough few weeks with a teething and boundary pushing toddler. Works deadlines. Heat keeping us indoors. I think that more often than not, when I've opened my mouth, it's not been wisdom or kindness coming out.
Does wisdom pour forth when you open your mouth? Is kindness on your tongue? Share in the comments. Make sure you go visit Kelli at Adventurez in ChildRearing too! Grab the button code from this page to share.
Also linking up at:
Teach Your Kids to Have a Devotional Time
Teaching your kids grow their own faith doesn't have to be difficult. Get this downloadable guide to help you teach your kids to have their own devotional time!