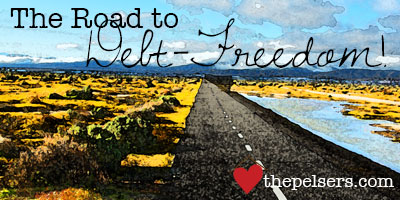 I'm excited to report that we're now at the 3/4 mark in our quest to pay for Baby #3 in cash. Giving birth is expensive when you have a high deductible insurance plan, but I'm still thankful that we have health insurance and don't have to pay everything out of pocket.
When Murphy Visits
As we're trying to pinch pennies, pay for baby, and get to our debt-freedom, every little thing can count – for us or against us. Murphy's Law comes along and punches you in the gut. You've been there, right?
Thankfully when Murphy does come knocking, we have a secret weapon – an emergency fund. But, we also have a second weapon: a DIY spirit. Some of you are probably laughing and thinking that DIY usually ends up costing you more in the long run but stick with me.
A couple weeks ago, our washer started eating things. By that, I mean really chewing things up and leaving holes. Thankfully we caught it on diaper cloths before it moved on to clothes. I was nervous that we were headed towards a costly repair or a new washing machine.
Josh started pulling the washer apart. With little internet research and some videos, he had the agitator out and was ready to replace the whole thing at the cost of about $70. A little most research brought him to the point of getting the agitator apart to find that the real culprit were these tiny little things called agitator dogs. The cost to replace those little "dogs"? Less than $5 for the part.
Of course this all happen over a weekend. Thanks Murphy. But, come Monday, Josh picked up the part from a local repair shop and had the washer back together in just a few minutes.
My point? If you're on the road to debt-freedom, every penny counts. I recommend that you do the following:
Have an emergency fund. It scares Murphy.
Before jumping on costly repairs or replacements, do your research.
Try DIY. If you don't have the skills you probably have a friend who does and would trade services with you.
Get creative. Don't let Murphy take you down or eat your clothes.
Got a "Murphy" story from your road to debt-freedom? Share it in the comments!
Teach Your Kids to Have a Devotional Time
Teaching your kids grow their own faith doesn't have to be difficult. Get this downloadable guide to help you teach your kids to have their own devotional time!