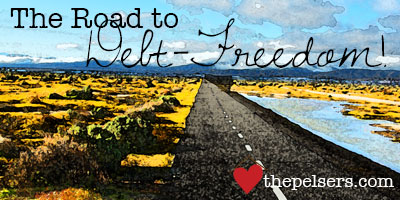 For the last few months, my 3 in 30 goals have centered on our debt-freedom progress. Since I'm so laser-focused on this goal right now, I'm going to stop pursuing and writing about any other goals.
Starting today, I bring you: The Road to Debt-Freedom. Every Friday I'll now be sharing tips and resources for pursuing debt-freedom as well as regular updates on our debt-freedom progress.
To bring you up to speed, this spring we payed off Josh's student loan. Over $6,000 in 3.5 months.
Our current remaining debt:
HELOC
My student loan
House
Our current goal is to pay $4,000 on our HELOC by the end of 2012. This goal began in May and here is where we stand as of the end of June:
I'm thankful that we've never had consumer debt and didn't have to dig ourselves out of that hole, but student loans and our house are still a lot of debt to walk through. There are two things that really set this process of walking the road to debt-freedom into motion for us:
Dave Ramsey's Financial Peace Class – If you can't find or don't want to go through a local class, there's an online version, which we used. We're were at an uncertain point in our lives in the fall of 2010 when we took this class. Josh's job at a non-profit ministry was becoming quite stressful and we needed to make a change for the sake of our growing family. I had recently left my job at a church to be home with Jonathan and the yet to be born Jacob. This class help us see that it's a long road, but debt-freedom is possible. Right now, the FPU online class and the FPU home study class are on sale at the lowest prices I've ever seen.
You Need a Budget Software – I needed a user friendly software that worked well with the concept of envelopes and made it easy to see how much was in "savings" in various long-term envelopes. I've looked at a lot of software and YNAB is the best I've seen – it's a great budget and account tracking tool. It's perfect for walking the road to debt-freedom. Using this software has made it so easy to see where every dollar is going. YNAB made it possible for me to see and understand my budget – and stick to it! They just released version 4.0 at the end of June and it has some incredibile enhancements.
Are you on this road to debt-freedom with me? Passed some major milestones? Made it to debt-freedom? Share your stories and suggestions in the comments.
This post contains affiliate links.
Teach Your Kids to Have a Devotional Time
Teaching your kids grow their own faith doesn't have to be difficult. Get this downloadable guide to help you teach your kids to have their own devotional time!