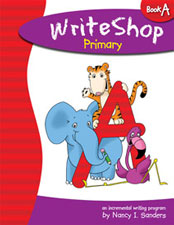 I'm excited to be partnering with WriteShop and preparing to review WriteShop Primary Book A. We're using their ebook format. I like ebooks for a number of reasons. Easy to store. Portable. Easily reusable. Most of all, I like that I can use the teacher's guides on my iPad and not have the expense of printing them.  But, sometimes there are little technical issues to overcome to make using ebooks work on a portable device such as an iPad.
WriteShop's Teacher's Guide file is formated as an Adobe Portfolio, meaning that the individual PDF files are packaged together as a single PDF file.  This is fine if you're using Acrobat Reader on a computer, but you cannot open this file in Preview on a Mac or use it on most portable devices.  Here's a simple tutorial to help you unpack those files.
Using WriteShop ebooks on an iPad
This tutorial was created using Adobe Acrobat Reader for Mac, but the process should be similar on a PC.  Although my instructions are specifically for iPad, the resulting files can be used on any device that can open a PDF file.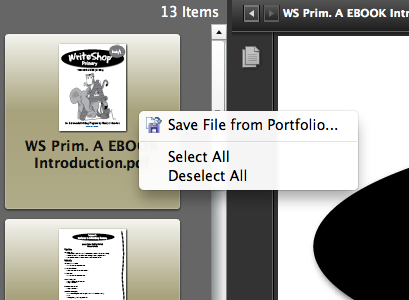 1.  Open the WriteShop teacher's guide file.  There should be a preview pane on the left hand side that shows the individual lesson files.  Right-click and select all.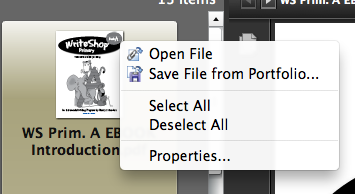 2.  Right-click on the selected files and choose Save File from Portfolio.  Choose a location to save the files.
3.  You now have each lesson as it's own PDF file in the location that you chose to save them.  These individual files can be opened in Preview for Mac or moved to a portable device.
4.  Move the files to your iPad or other portable device. My preferred app for reading PDF files on my iPad is GoodReader.  I put the files in either Evernote or Dropbox on my Mac. Those files sync with my iPad and I can open the files using the GoodReader app.  You could also use the Adobe Reader app or the iBooks app. I like GoodReader because I can highlight and make notes on the pages.
GoodReader for iPad is available in the App Store for $4.99. 
I hope this tutorial helps you make the most out of your ebooks from WriteShop.  If you have additional questions, please leave them in the comments and I'll do my best to answer them.