If I start singing…
"If you like to talk to tomatoes
If a squash can make you smile
If you like to waltz with potatoes
Up and down the produce aisle…
Have we got a show for you!"
There's a pretty good chance, your response will be…
"VeggieTales, VeggieTales, VeggieTales, VeggieTales,
VeggieTales, VeggieTales, VeggieTales, VeggieTales!"
It's hard to believe that VeggieTales has been around since 1993. I was in high school in 1993! Now here we are 20+ years later and my kids watch and love Veggie Tales.
All nostalgia aside, VeggieTales is really a great show. I'd call it one of the best animated shows for teaching Bible stories, character, and morality. So, I was really excited when I was asked to take a look at and share a VeggieTales devotional for little boys with you!
Want to know who was even more excited? My 5 year old! He started dancing around the house and stalked the mailman until his copy of VeggiesTales Every Day with God: 365 Daily Devos for Boys arrived. (Don't worry girl moms! There is a girls' version too!)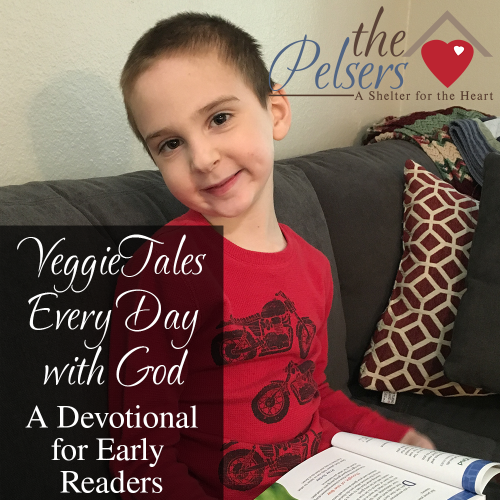 Early Reader Devotional
VeggieTales Every Day with God, as the title implies, has 365 short daily reading for your kids. Each reading has a title, focus verse, a short devotional reading, a closing thought of the day to summarize the reading, and a prayer.
My 5 year old is currently reading at a solid 2nd grade level or higher and has no trouble picking up this devotional and reading the entire page on his own. It would be good for your early readers, but younger kids or later readers can still benefit from having the daily devotional read to them. Physically, the book just the right size for my 5 year old to hold in his hands and the pages fairly thick and glossy. It has a good "feel" to it for a child and seems durable.
Let my clarify some of my personal opinions on Bible study and devotional materials for kids:  I'm not a fan of a lot of color, fanfare, or gimmicks when it comes to teaching the Bible to kids. I think most kids, even toddlers, are smarter and more in tune with God than adults often give them credit for. I like VeggieTales Every Day with God because while the branding is there and appealing to my 5 year old, it's not overwhelming. The characters and color add just enough to the pages without being distracting.
My 5 year old says that he likes the stories, but his favorite part of the daily reading is the prayer. He likes to pray on his own, but he likes that the scripted prayer helps him to pray specifically about what he learned that day.
How We're Using Every Day with God
Daily devotionals are great, but they are no good if you don't pick them up and read them, right? Initially, my 5 year old took the book to his bed and was reading it there at night. After a few days of that, we felt it was better to have the book out where he'd see it and read it in the mornings.
Our copy of of VeggieTales Every Day with God now lives on the side table in our living room, right next to my Bible, journal, and my other other currently in process books. Right after breakfast, he grabs his devotional off the table to read the page for the day before he and I pick up with where we left off reading in his Bible. That's how we start his day. Then, it's on to homeschooling.


Giveaway!
Would you like a copy of VeggieTales Every Day with God for your child? Great news! I have a copy to give away to a reader! The winner will have the choice of the Devos for Boys or the Devos for Girls version. Which one would you choose? Tell me in the comments and enter using the form below:
Disclosure (in accordance with the FTC's 16 CFR, Part 255: "Guides Concerning the
Use of Endorsements and Testimonials in Advertising"): Many thanks to Propeller Consulting, LLC for providing this prize for the giveaway. Choice of winners and opinions are 100% my own and NOT influenced by monetary compensation. I did receive a sample of the product in exchange for this review and post. Only one entrant per mailing address, per giveaway. If you have won a prize from our sponsor Propeller / FlyBy Promotions in the last 30 days, you are not eligible to win. Or if you have won the same prize on another blog, you are not eligible to win it again. Winner is subject to eligibility verification.