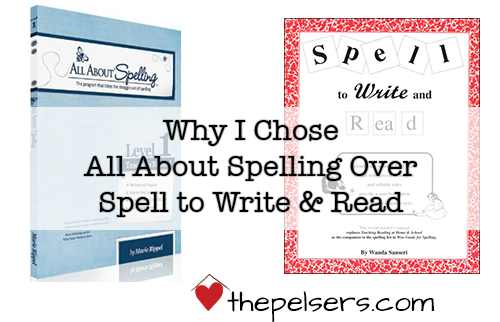 Jonathan has now completed the first two levels of
All About Spelling
, but before using
All About Spelling
, we used Spell to Write & Read for a couple of years. I used Spell to Write & Read for preschool as Jonathan was learning to read (in addition to Pathway Readers and Workbooks) and we used it through Kindergarten. At that point I was feeling a little frustrated with Spell to Write & Read and I was introduced to
All About Spelling
. I decided to find out what all the fuss was about and I fell in love.
But, let's back up a little…
Choosing a Spelling Curriculum
Spelling curricula, in my opinion, are difficult and confusing to wade through. There are so many options and ways to teach spelling. Certainly you can very successfully teach spelling by simply using dictation and copywork, but, some parents feel more comfortable having a book to teach from. That's how I felt.
Using Spell to Write & Read
Spell to Write & Read was recommended at a local homeschool convention. It seemed like a good approach, so we went with it. It is based on the Spaulding Method, which as I understand it is an off-shoot of the Orton-Gillingham method of teaching spelling. All About Spelling is also an off-shoot of this same method. The idea of one set of books that would take us all the way through high school spelling was also appealing. I mean, who doesn't want to save money and have a nice compact curriculum to work with.
I felt very overwhelmed with Spell to Write & Read when I first sat down with the books. To teach using Spell to Write & Read, the parent must do a lot of reading and preparation before even thinking about starting to teach spelling. The parent also really needs to memorize the phonograms, rules, and a special set of markings. I consider myself fairly smart. I mean, I made it through grad school without too much difficulty, but, when it comes to learning this spelling method, I felt completely inadequate. If you spend a lot of time with the material, you can learn it, but most parents need to go through a seminar to learn to teach Spell to Write & Read well.
In general, I'm not a fan of scripted curriculum. That's why I really thought that I'd like Spell to Write & Read. What I found out though is that spelling rules are difficult to teach when you don't fully understand them yourself and don't have good, simply worded explanations to fall back on.
That's where I found myself at the end of Jonathan's Kindergarten year. We had breezed through the first 4 Spell to Write & Read spelling lists, but I was terrified to move forward because I didn't see the point in memorizing special markings and just writing the words was boring for Jonathan. He tends to be a little more oral/auditory oriented in addition to having a strong visual learning style. And he's also a young and active little boy. He can write, but his hands tire quickly. He can sit, but only for so long. He likes to spell out loud rather than writing all the time as was regularly needed in Spell to Write & Read. We needed something better – for me and for him.
Moving to All About Spelling
Now here's where All About Spelling entered our lives. Honestly, I was put off by the price at first. Spending $40 a level to teach spelling is a lot of money. Plus, add on $30-$50 for the interactive kit that contains, among other things, the letter tiles. That adds up quickly.
I was also nervous about the scripting. I stopped using Saxon Math K because the teacher script drove me crazy. I opened the All About Spelling teacher's manual and I think I heard angels sing. The intro says that the activities are designed to work with varied learning styles and provide a multi-sensory approach to teaching spelling. I found that the way that the manual is laid out makes it easy for me find what I need to say but also put it into my own words as I go along if I want to. I also found that I could speed up a lesson when Jonathan clearly understood the material by reducing the dictation and saving some of that for later review between levels.
All About Spelling makes teaching spelling easy for the teacher. I don't have to spend hours preparing in advance of teaching a lesson to make sure I understand all the rules and special markings. I just open the teacher's manual and go. I learn along the way too. When questions do arise, I can answer them because I'm learning all the same spelling rules in the same way as my child at the same time. I really wish I'd been taught to spell this way.
8 Reasons I Now Use All About Spelling
Here's why I will continue to use All About Spelling instead of Spell to Write & Read:
No tedious advanced preparation. Just open and teach.
No memorization for me as the teacher. I learn along side my child.
Brightly colored and engaging manipulative letter tiles.
Multi-sensory approach without having to come up with the activities on my own.
Classical / Charlotte Mason dictation exercises.
Teacher's manuals can be reused for future children.
Easy to personalize the script and activities to fit my child.
My child begs to do more spelling with All About Spelling.
If you've been trying to decide if All About Spelling is worth the price, my answer is most definitely it is. If you've been trying to decide between Spell to Write & Read and All About Spelling, I hope this helps you see the difference from a mom's perspective. All About Spelling also has some additional FAQ's about the differences and switching from Spell to Write & Read that you should look over.
Your Turn!
What do you think about teaching spelling? What difficulties have you run into? What fears do you have? Any questions about All About Spelling that I can answer to help you out? Jump down to the comments and let's talk!
Want to get All About Spelling for your kids? Head over to the All About Learning Press website.