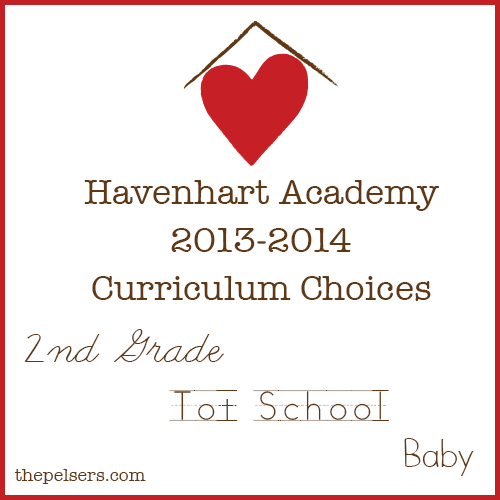 Our homeschool curriculum plans for 2013-2014 are now in place. We started at the beginning of July and are loving our choices so far. We're also using a modular schedule that is working very well for us so far.
Jonathan – 2nd Grade, 6-7 years old
This is our first "official" year of homeschooling. Jonathan turns 7 this year so I have registered with the state of North Carolina for the first time. It's a simple process – register online and then fax your diploma evidence in. We are required to keep immunization records, attendance, and yearly test scores on hand. That's it!
Here is a list of what I have planned so far:
Math Mammoth Light Blue Grade 3
I'm letting him use my iPad and a stylus rather than printing out the workbooks this year. I wrote a tutorial to show you how to use worksheets on an iPad.
Apologia What We Believe Series Volume 2 – Who Am I?
We're reviewing Who Am I? for Apologia this year so stay tuned for check-ins along the way on this awesome worldview curriculum.
Apologia Exploring Creation with Botany
We're partnering again with Apologia this year for science. I've been holding Jonathan off for two months to start Botany!
Mystery of History Volume 2
I'm very excited about a new partnership with Bright Ideas Press. I'm going to be sharing throughout the year how you can use Mystery of History with a younger child as well as reviewing their supplemental materials.
All About Spelling Level 3
Additional read alouds still to be determined
I'm adding in read alouds to go with medieval history as we find them and want to study more on a subject. I'm still making a list of good literature read alouds for this year. If you have suggestions, please leave them in the comments in this post. I'd love to hear some of your favorite recommendations!
Jacob – Tot School, 2-3 years old
Jacob turns 3 this fall. He already knows most of his letters and their sounds as well as many of his numbers. We'll continue a gentle and fun based approach picking and choosing through these resources:
Confession of a Homeschooler Preschool Curriculum
1+1+1=1 Tot School Printables
God's Little Explorers Preschool Curriculum
I used Sonlight PK 3/4 with Jonathan, so I'll be pulling those great books out and reading them with Jacob. I'm also considering adding in All About Reading Pre-Level because Jacob does have a good grasp on his alphabet and is showing an interest in reading. Jonathan read at 3.5 years old, so Jacob might be an earlier too.
Josiah – Baby School, 0-1 years old
And then there's Baby Josiah. He'll be working on rolling over, sitting up, crawling, and walking this school year. I'm sure he'll listening to plenty of board books and read alouds too.
Your Turn!
What are you using for your homeschool curriculum this year? Any recommendations for us? Share in the comments!