Jesus is always the main character in the Bible. However, studying the women of the Bible as heroines can be a fun and engaging way to dig into the Word with your girls and teach them about godly womanhood. The good and bad choices of these biblical women, the way God used them for His purposes, and their relationships can be really valuable lessons for our girls.
Studying Bible Character Profiles Together
Go through the list below, taking the time to read the passage and discuss the characteristics of the women portrayed. God can use the most unlikely people in the most powerful ways! In spite of our weaknesses, He can do great things through us.
Here are some ways to explore the character/story:
Draw a picture of the woman
What are the main events in her story?
List some of her character traits, both good and bad.
What can we learn from her about being a godly woman?
How did God use her for good in spite of her weaknesses?
What is one question you'd ask her?
Bible Characters Girls Love
Here is a list to get you started, along with a few points about each character to consider:
Eve (Genesis 2-4) – The first mommy, made perfectly, perfect relationship with God and husband, dire consequences of sin
Deborah (Judges 5)- Faith in God's power, God can use unlikely people for His purposes, God's nurturing care for His people through Deborah, her willingness to be used for that purpose
Ruth (book of Ruth) – Loyalty to family, dedication to following God's ways and being with His people, teachable spirit, respect for elders, trust in the Lord, hard work and diligence, God can save and change anyone regardless of past, God rewards faithfulness
Hannah (1 Samuel 1) – Mother of Samuel, some desires placed in our hearts by God when they are for His purposes, gave her son to the Lord, diligent in prayer, trusting of God's promises
The Shunammite Woman (2 Kings 4) – Heartfelt hospitality, sincere faith, blessing those who work for God, humble acts of service are a blessing to the giver and the receiver
Esther (book of Esther) – Became queen, interceding for oppressed, taking risks in order to do the right thing, being available for God's plans and purposes, faith in God's promises
Mary, mother of Jesus (birth of Jesus accounts in gospels, Luke 2:51, John 19:25-27) – Highly favored by God, given unmerited favor, suffered loss and rejection for the sake of God's greater purposes, humbly submitted to God's will, rare strength and obedience
Elizabeth (mother of John the Baptist) – Considered righteous and holy along with her husband, Zechariah, God allowed her to become pregnant at old age after barrenness, humble and focused on the Lord instead of herself, great faith in God, John leapt in her womb when near pregnant Mary, praised God for His mercy and kindness
Mary of Bethany (and Martha) (Luke 10:38-42, John 11, Matthew 26:1-6) – Importance of making Jesus our life's priority, spending time with Jesus, listening carefully to the Lord and honoring Him with our lives, giving Him the best we have
The Woman at the Well (John 4:4-42) – God loves us no matter what, He always invites us back from sin, God's great grace through Jesus, salvation comes through faith, forgiveness comes when we turn to Jesus and repent
What are your girls' favorite Bible characters? Who would you add to this list? 
Want a resource to help you study? Try this character worksheet!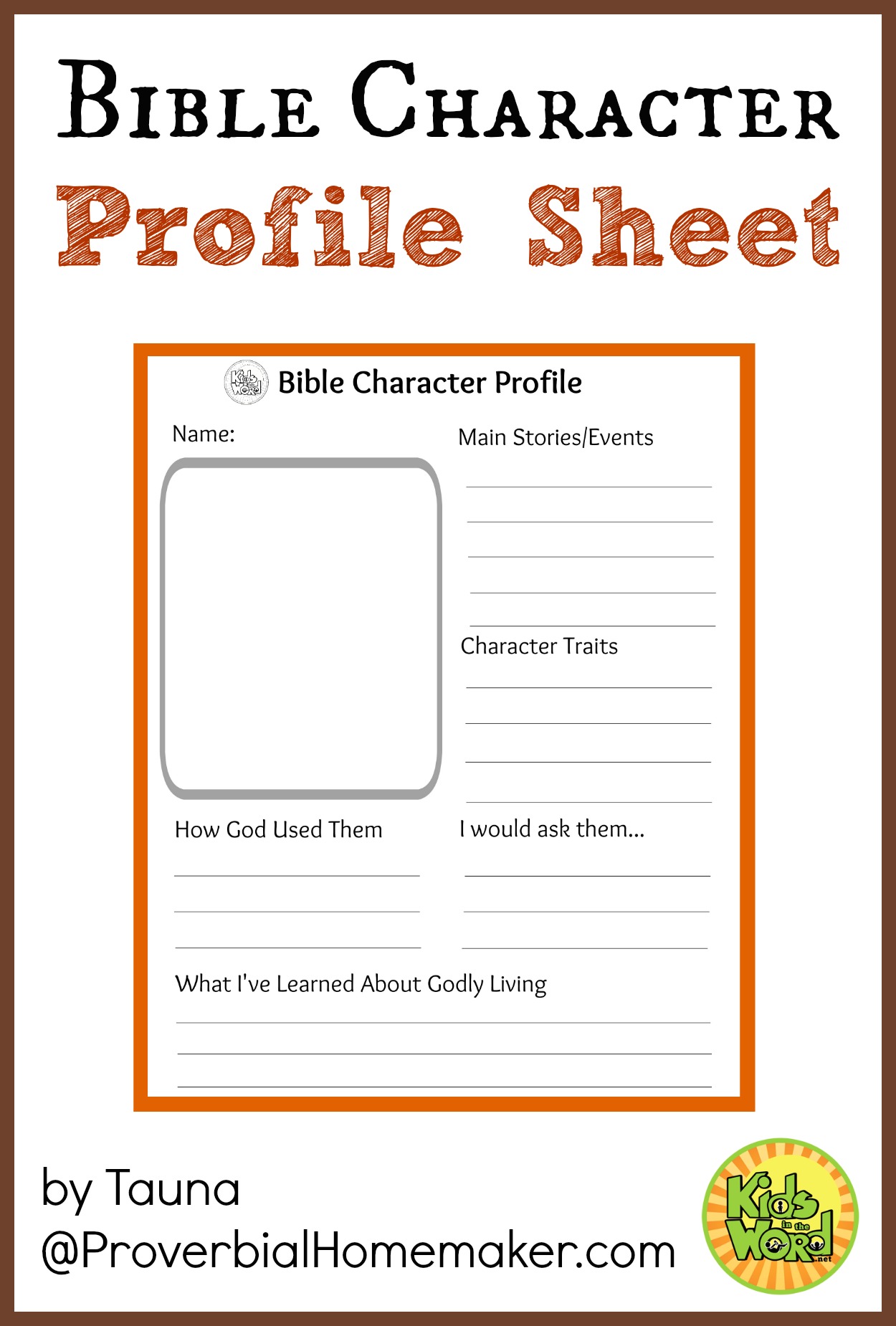 Free Bible Character Profile
Get this free Bible Character Profile Sheet to help your kids study characters in the Bible!