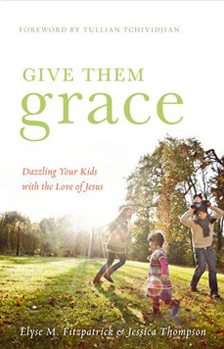 This week, we're in Chapter 8 of the Give Them Grace book club. To join us, all you need is a copy of Give Them Grace. After that, read these posts: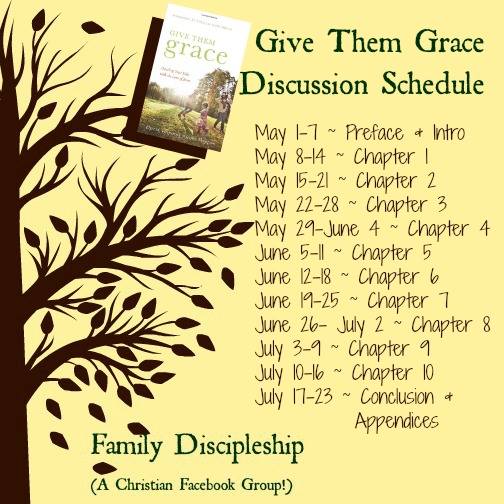 Join us in the Family Discipleship Facebook Group for more discussion throughout the week!
Today I have the opportunity to share my most cherished decision within relationships–love. I'm reading Give Them Grace with the Family Discipleship Facebook group and we're discussing Chapter 8, "Go Tell Your Father." I was sold on the chapter's name alone and the more I read, the more I realized just how good God is to me.
The Big Guy in the Sky
I must confess there was a time when I saw God as "the big guy in the sky." It created such a distance between us. This distance led to feeling bad each and every time I missed the mark. I did not want to talk to God much. I continually felt like a repeat offender losing my standing each time I needed Him.
I was once told that a child's relationship with his or her earthly father bears weight on how he or she will view (and relate) to the Heavenly Father. How true this was for me. I was a fatherless girl who could only see God as this big scary "man" whose nerves I tap danced on with any kind of communication about things concerning me. I saw God much like "Aunt Biddy" in Chapter 8.
I came to a crossroads where I was going to learn how to relate with God or just walk. God began to move on my heart and I really began to see His love for me. I realized love and fear cancel each other and up until that point, I'd been afraid of God.
There is no fear in love. But perfect love drives out fear, because fear has to do with punishment. The one who fears is not made perfect in love. ~I John 4:18
Father God
Through prayer and meditation on God's Word I learned how much God loves me and developed a daughter's love for Him. He was no longer distant and I was no longer afraid. In time, I really grasped Romans 8.
And I am convinced that nothing can ever separate us from God's love. ~Romans 8:38
If you're struggling with God's love for you today please know there is nothing that can ever separate you from His love. God is jealous for you and wants a relationship with you.
Then I Became a Mother
The authors write,
"What you need as a praying parent is a deep drink of the great love of God, your Father, not more commands to pray. You know you should pray about your parenting, Do you know how He loves you?"
Yes! And yes! Motherhood is so trying. I am not even sure how people pull it off or even attempt it without God. I need God every day. I certainly need Him as a mother. Nothing will make you desire closeness with your own parents (in my case, my mother) than when you become a parent too. Since God and I had been working on our relationship, I clung to Him like my life depended on it. Because it did.
If I can list a growth of my love for God, it would look something like this:
I love God because He first loved me.
I love God because He is my father.
I love God because He is close to me. He hears me.
I love God because I need Him to help me love my sons.
I love God because I can talk to Him every day, even about the things I totally screw up.
He is always there waiting to hear from me. It is okay. It really is.
My confidence in His love for me makes for a awesome prayer life, especially as a mom. Definitely as a desperate mom.
 Aside from questioning whether our Father really loves us and wants to hear our prayer, another reason we don't pray is that we are not really desperate.~Give Them Grace
How true!
Desperate for God
Before I go, I'd like to encourage you by sharing a simple prayer I learned to pray (in my desperation or weakness) that has comforted or delivered me so many times.
In your moment of desperation or weakness, think about what you need most in the moment and ask God for it. It's three simple words and it looks like this:
When I feel unsafe, "Thy protection, Lord."
When I feel uneasy, "Thy comfort, Lord."
When I feel confused, "Thy wisdom, Lord."
When I feel hot-tempered, "Thy peace, Lord."
When I feel stuck, "Thy help, Lord."
As a mom, I cannot tell you how many times I reach out for God with these simple prayers. He has always shown up.
Remember, radically sinful and radically LOVED!
Your Turn
What are you saying about Chapter 8 of Give Them Grace? Are you convinced that God loves you? Does your opinion of God the Father invite you or discourage you in prayer? Share your thoughts in the comments below and in the Family Discipleship Facebook Group.