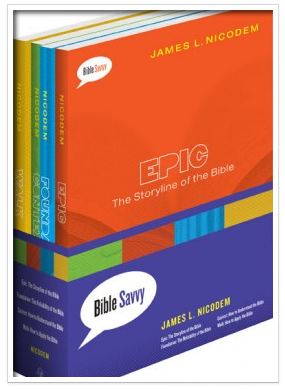 The Bible Savvy Series
The Bible Savvy Series is a set of books written by James L. Nicodem and put out by Moody Publishers. Moody sent me a set to take a look at and share my thoughts with you.
The Bible Savvy Series set contains 4 books:
Epic: "The Storyline of the Bible unveils the single theme that ties all the various parts of scripture together: redemption."
Foundation: "The Trustworthiness of the Bible explains that the Bible is God's book, not merely man made, and why it can be wholly trusted."
Context: "How to Understand the Bible shows readers how to read the different parts of the Bible as they were meant to be read and how they fit together."
Walk: "How to Apply the Bible helps readers put their greater understanding of the text into practice and how to draw real-life applications from it."
I like how comprehensive the series is. It takes the reader from the big picture of the Bible all the way through how to use the Bible in your own life.
There's a study guide at the end of each chapter that could be used by individuals or groups. I think this series would make a great study for your older kids. The set could easily be used as the basis for at least a semester, if not, a year long high school Bible course.
There are QR codes in the book that lead you to videos on the Bible Savvy website. In addition, you'll find PDF printables of the study guide portions of the book on the website. I really like that feature because it makes it easier to write answers to the questions and make your own notebook.
Now it's your turn!
How have you kept your kids in the Word this week? Share in the comments!
Disclosure: I received a set of The Bible Savvy Series in exchange for an honest review.