Welcome to Kids in the Word Wednesdays!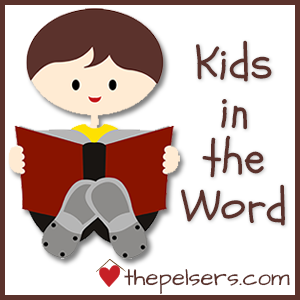 Kids in the Word is a weekly link up here at The Pelsers. You'll find a new post every Wednesday along with a new link up. I'd love for you to join us!
Kids in the Word Link Up
Kids in the Word is about 3 main things:
Getting kids into the Bible
Teaching kids to have character
Showing our kids orthodox worldview and theology
You're invited to link up blog posts that fit into those three categories. Reviews of products or giveaways that fit into those categories are welcomed. There are lots of link ups out there for general Biblical posts and women's Bible studies reflections so please don't post those here. Your posts should directly relate to kids and Bible, character, or worldview.
How to Link Up
Add the permalink of your blog post to the link up at the bottom of the weekly post.
Include a Kids in the Word Button in your post so your readers can see the other posts that have been linked up.
Not a Blogger?
That's ok. You can still participate even if you're not a blogger. Share how you're keeping your kids in the Word in the comments of the post each week.
Questions?
Feel free to contact me.