Lent is upon us, and for many, this means giving something up or adding something to our lives. Much like Advent, it is a time to prepare our hearts for what is to come. Lent leads us to Easter, the climax of Christ's life on earth. For many of us though, it is a tradition that is dreaded, or even forgotten today.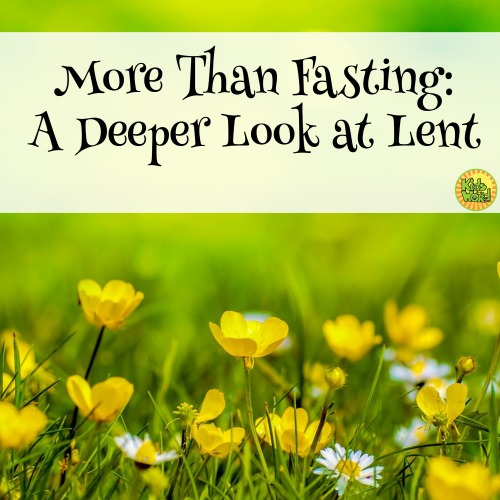 I grew up in a Christian home but my denomination did not celebrate Lent. When I went away to college, I was surrounded by many friends who grew up celebrating this tradition. At first, I really looked down on these people who celebrated a tradition that, in my mind, was very works-based. I didn't see a call for it from scripture, and I knew it couldn't change my salvation. So, I stayed away from topics of conversation about it and tried to just keep going.
But God pushed deeper on my heart.
My friends who were giving up things were also adding things to their faith walk. We were in college, so some of the things might seem trivial – but the effects were eternal.
One friend gave up Facebook – and instead, spent her free time studying scripture.
One friend gave up sleeping in – and instead, took walks around campus, praying for those around us.
Another friend gave up snacking – and picked up running. This gave her time to pray and meditate on scripture and made better use of her temple that God had given her.
So the second year, I decided to join in. I gave up Facebook. For 40 days. I read God's Word and I journaled. I got through more of the Bible in that short period of time than I had thus far in my life. That was the first year I read my Bible through.
The third year, I gave up secular music. Simple it seems, but it wasn't for me then. I only listened to praise music. I have listened to very little secular music (of my own doing) since.
The fourth year, I decided I was going to give up the radio in the car in general. I used that time to pray and work on memory work. I still do this once a week.
Now, each year I give up something – and this has spread to my kids. But, we don't give things up for the show of giving something up, or because we need to earn favor with God. We give something up so that we can fine tune our walk with God. Often, we give up something as a family – and add something in its place.
How do we decide what we will do for Lent?
We start praying. As a family, about 2 weeks before Ash Wednesday, we begin to pray. We ask God to reveal areas of our lives that are distracting us from our walk with him.
We write it down. Each family member that is able writes down what their distraction is and places it in the Easter basket that is on our fireplace. Then, my husband and I read over them and pray some more.
We hold individual meeting and prayer time with our kids. Depending on what is on the card, we meet with our kids one on one. We pray with them about where their spiritual life is. This is a great time to pray with a child, and over a child, who has not yet given their life to Christ.
We make a decision. My husband and I then decide if we are going to do a group fast (like from television, music, etc.) or something more individual.
We hold a family dedication time. On the Tuesday before Ash Wednesday, we dedicate our next 40 days to God. We tell our kids what our family fast is – or if we are going to do individual things based on where everyone is at.
We hold each other accountable and in prayer. Each night, our family talks about how we are doing with our fast. What the struggles are. We also talk about what we are adding in its place and how we are doing with that. This time of prayer has been so sweet for our family.
We celebrate. The day after Easter, we hold a family fun night and celebrate. We talk about our victories. We talk about how hard it was. We rejoice. Then, we determine how we are going to move forward.
You see, the fasting from something does nothing for you if you are not changed. The point isn't to just give something up – it is to grow closer to God. Sometimes, the things I (we) have fasted from have stayed permanently gone from our lives. Sometimes, we add them back, in moderation.
We may also learn that sometimes, the things we try to add are too big for us right now. Maybe we committed to learn 40 verses in 40 days at the age of 8. Well, that might be hard (obviously, this is an exaggeration – I wouldn't set them up for failure!). However, realizing how important scripture memory is, we might say we will commit to one verse a month for the next year! I think you get my idea.
I hope this helps you see how Lent can be such a blessing to your family. Even if you have never celebrated, this year, focus on letting go and redirecting some of your time to developing a deeper relationship with Christ for your family.
Worshiping With My Life,
Mandy
Looking for more resources for Lent and Holy Week?
Check out our devotional So Much Bigger Then The Bunny: