Jacob is a more regular student in our homeschool this year. He started this school year as a three year old but recently turned four. Four? I can't believe I'm on this homeschool journey with a second child already!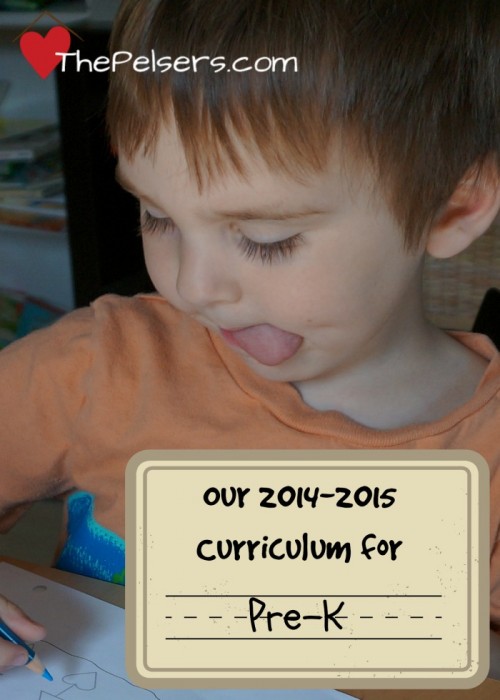 Sonlight
I've been pulling out a lot of things that I used with Jonathan when he was this age. Sonlight P 4/5 (now just called Preschool) is the foundation for our read-alouds. I don't follow exactly along with the teacher guide because my boys have so far preferred to spend more time on one thing at a time (with breaks as needed) rather than spend a little bit of time on a lot of different things in one day.
Reading
When Jonathan learned to read, I started with Spell to Write & Read, Teach Your Child to Read in 100 Easy Lessons, and Bob Books. 100 Easy Lessons was mostly to gauge interest and readiness for reading. We never used it past lesson 10 or so, but I know there are many people who love this book and it works well for them. SWR is a great program, but it takes a lot of time for parents to learn and prepare to teach. I found All About Spelling and started using that for him. We never ventured into All about Reading for him because he was already reading well.
Read my comparison of Spell to Write & Read and All About Spelling here.
I love All About Spelling so I wanted to try All About Reading with Jacob. We did the AAR Pre-Level last school year and were really casual with it. He loves Ziggy, the puppet that goes with Pre-Level. He loves Ziggy so much that Ziggy sleeps in his bed at night! Last spring Jacob was showing more and more interest and readiness for reading. He plowed through the rest of the Pre-Level in a hurry. We started All About Reading Level 1 with him in May and he finished it in September. He was so excited about reading that we continued full force through the summer.
We're going to causally use All About Spelling Level 1 for the rest of this school year, but I do have All About Reading Level 2 on hand ready for him. I don't want to push into the next level right away. I want to give Jacob time to practice what he's learned. Bob Books and other early readers will be the main focus over the next few months.
Above I linked to the exact packages of Bob Books that we have. We found them at Costco last spring for a great price, and I recently saw them again at our local Costco, but there are a lot of packages available at Amazon including ebook versions.
Bible
I'm reading through the Old Testament right now with Jonathan. Jacob joins in with us in coloring the overviews of each book with PictureSmart Bible. I'm a little surprised at how much he likes this step by step coloring process. And 3-5 times a week, we ready one story our of the Family-Time Bible that came with our Sonlight P 4-5 package.
Other
Apps on iPad
Printable packs from various sources
Everything else is interest led or based on whatever I find that looks fun. Jacob uses Splash Math K on the iPad plus real world math like counting bears and unifix cubes. Math right now it practical and fun.
I follow a lot of preschool bloggers who create some great printables. When I find something that is holiday or theme related that he'd enjoy, I download and print it for him. Dot-A-Markers and our Crayola Dry-Erase activity board are frequent companions for Jacob. Seriously, every preschooler needs those two things!
I'm slowly introducing formal handwriting to Jacob using Handwriting without Tears. Jacob seems to have a little less fine motor control at this age than Jonathan did. We've focused mostly on tracing on the downloadable printables up to this point. He can write his name and at lot of other letters, but it's time to start putting a little more focus on correct formation.
Homeschool Law
In California, children are not required to attend kindergarten. Mandatory schooling begins with 1st grade or the year a child turns 6 before September 1. Jacob's birthday puts him 6 weeks past the cut-off for traditional school year in California. Even though he won't be reported on our private school affidavit for a couple more years, he's still a learning member of our homeschool. It's pretty likely that we will call next school year Jacob's Kindergarten year if he continues to learn and show interest at the level he is now. Because Jacob is not currently a reported part of our homeschool, I'm not as detailed in tracking and planning his school work. I still use Scholaric for his work so I can see where we're headed and what he's done. I'm also not as strict with his daily or weekly schedule as I am with Jonathan. Jacob's school time usually take less than 30 minutes, 3-5 days a week.
What are you favorite preschool resources?