Valentines Day is right around the corner, and that gives us a great opportunity to teach our children about true love. Not the fluffy love that the world shows, not romantic or even family love. We can use Valentines Day as an opportunity to teach our children about love from the God – who is the only one who loves perfectly, and how they can love others, and show kindness, of the love that God has shown us.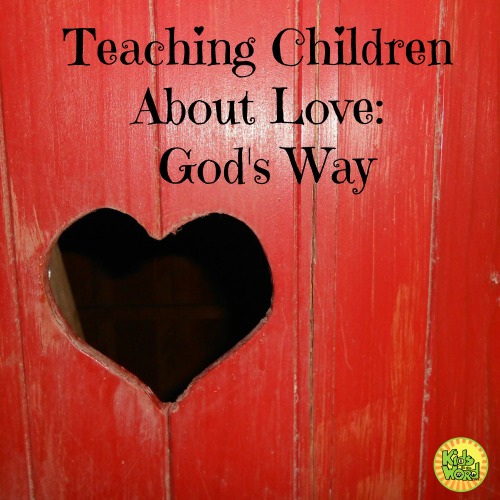 In the days leading up to Valentine's Day, I try to help my children focus on God's love. We read 1 Corinthians 13 – and apply it to our lives. We look up definitions of the different words and talk through scenarios in which we can show love to others. We always start in our own home, and then move outwards to others.
The best part is, we have a banner that we use in our home to help remind our kids of the different attitudes of love that we are trying to apply to our lives. I hang this up mid-January and keep it up until the end of February! We don't have to stop learning to love right just because Valentines Day is over!
It starts with us, as parents, teaching our children these attitudes. Let's take a closer look at 1 Corinthians 13:
Love is patient – We need to teach our children to be patent. This one is hard – because often we are not patient. How are we when we are cutoff on the road, or when we choose the "wrong" check out line? The way that we respond in these situations will also be the way our children respond.
Love is kind –  Do you stop and hold the door open for others? Do you buy a drink for the person behind you in line? How do you show random acts of kindness to those around you. Get your children involved. Leave M&M's in the mailbox for the mail carrier, bake cookies for a neighbor- show kindness to those around you!
Love is not boastful – Pride can often be something that quickly diminishes the love you have for others. Are you always trying to "one up" someone? Speak complimenting words to others!
Love is not rude – This goes beyond remarks, but into tones and actions. I often think of the way I respond to my spouse- am I using a lot of sarcasm? Children don't always understand sarcasm, and so when they try to mimic it, the result is rudeness. Also, be sure you speak truth in love. Often, when we have to tell someone something that is truthful, and could hurt them, we don't wrap it up in love for them. Children hear bluntness that we use with others, and try to do the same- but it turns out rude.
Love prefers others (does not insist on its own way) – Do you have to have things your way or no way? We need to show our children that we can prefer others- by choosing what someone else wants. East ways to do this are letting someone else decide the movie or game, or where the family will go for dinner.
Love is not resentful –  We need to teach our children to truly forgive. Not to allow things to be "okay", but to go beyond that and not hold grudges. Don't allow them to see you hold a grudge- and be sure you help your children keep from being resentful. One way we do this in our home is to be sure they have enough time to process and forgive.
Love does not rejoice in wrongdoings – This is simple – but don't let your children rejoice in the fact that a sibling or friend is the one "in trouble". I have seen parents do this – the the effects are very hurtful.
Love bears all things – Perseverance is hard. It is important to teach our kids that love doesn't give us – even when it is hard. This includes relationships with siblings, friends, teachers, and even parents.
Love believes all things – Teach your kids to believe the best about others. To see people the way God sees them. To hate sin, but love the person.
Love hopes all things – Hope is in the Lord. Help your children to focus on their relationship with God when dealing with others by praying for those who are in their lives.
Love endures all things – Enduring is hard. We want our kids to be happy and carefree. But we know that is not reality. Help your kids to be able to endure hard times by focusing on what is true from God's Word
Love never ends – Love is from God. God never ends, and never leaves us. Because of this, we always have love.
Profound and yet simple enough that a child can understand. But hard enough that we will spend a life time learning to love this way.
I hope that some of these things are helpful for you, as you walk through 1 Corinthians 13 with your children. I have included a printable that has the hearts we use for our banner. We simply cut out the hearts and lace them with string or ribbon and hang them from our fireplace. Each night, we read 1 Corinthians 13 and then we read the idea about love for the day and talk about it. I hope this will help conversation in your home flow around the true love of God.
Get a copy of this free Valentine Countdown using the form below:
Can't see the download form in your email? Click here.
Worshiping With My Life,
Mandy