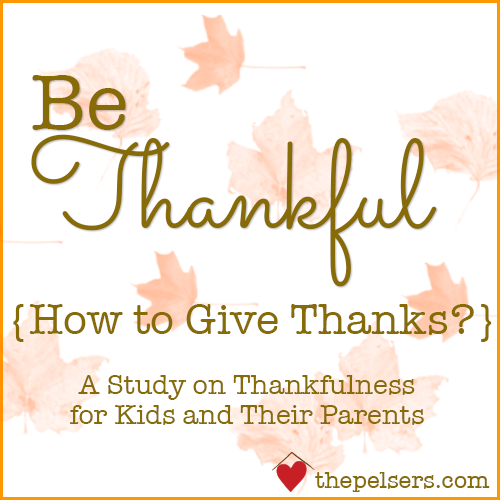 We've covered the definition of thanks and why we should give thanks to God. Now, let's discuss ways that we can give thanks.
How to Give Thanks
Many ways to give thanks are illustrated in the Bible. Here are some of them:
Song.
David is one of the best examples of giving thanks to God in songs and poems. In 1 Chronicles 16, starting in verse 8, David sings a song to thank God. In Nehemiah 12 we read about a choir giving thanks to God. While David and Nehemiah had the support of a band and choir, that should stop us from thanking God with music on our own.
Bowing Down. 
In American culture, we've lost a lot of physical expressions of reverence. Bowing down is seen more often these days in other religions and cultures, but it's simply a physical expression of humility and letting go of control. In 2 Chronicles 7:3-4, you can read how Solomon and the people of Israel bowed down to God as they thanked him. In bowing down to God, we're acknowledging that He's in control and provides.
Offerings.
In the Old Testament, there was an optional offering that the Hebrews could bring to God to show thanks. Leviticus 7:12-13 describes this offering as including bread of fine flour. Second Chronicles 29:31 and Jeremiah 33:11 also talk about the people willingly bringing this extra free will offering to thank God.
Prayer
Daniel got down on his knees three times a day to give thanks in prayer as told in Daniel 6:10. In the intro to most of his letters, Paul thanks God in prayer for the people he is writing to. Prayer is simply talking to God and using words to say thank you to Him.
Be Thankful Activity – FREE Printable
Talk to your kids about these 4 ways to give thanks to God. Ask them what additional ways they can think of to give thanks to God. Use this FREE printable for them to draw and write about how they can give thanks to God.
How to Give Thanks
Free printable for kids to journal about how to give thanks to God.
More on Thankfulness
Looking for more resources to teach your kids about Thankfulness? Take a look at this study I released at Kids in the Word… Be Thankful: Cultivating Year-Round Thankfulness.