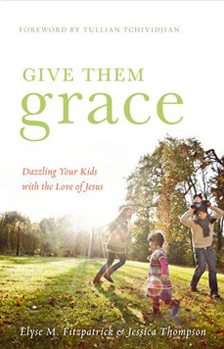 This week, we're in Chapter 9 of the Give Them Grace book club. To join us, all you need is a copy of Give Them Grace. After that, read these posts:
Book Club Announcement
Foreword and Introduction
Chapter 1
Chapter 2
Chapter 3
Chapter 4
Chapter 6
Chapter 7
Chapter 8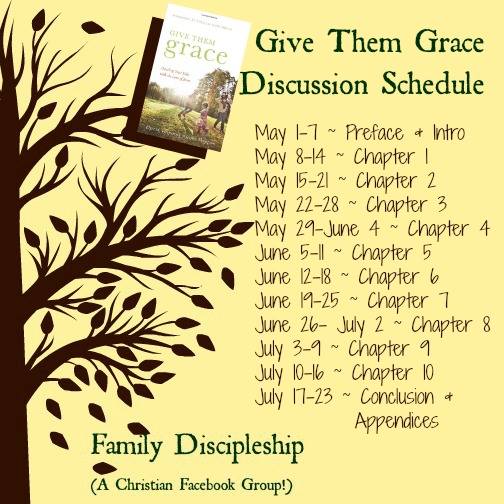 Join us in the Family Discipleship Facebook Group for more discussion throughout the week!
The Chief End Of Man
As soon as the introductory story concluded for chapter 9, the authors dove deep into the purpose of this chapter. They answer the age old question that humans have been asking since the beginning of time: "What is the chief end of man?"
"Man's chief end is to glorify God, and to enjoy him forever."

I couldn't agree more! In fact, the Bible outlines our purpose over and over again throughout its pages. And the following quotes from the writers of Give Them Grace lay out the very hope and desire for all of us believers who seek to pass on this truth to their children.
"We all hope to one day hear those blessed words, 'Well done, good and faithful servant.'"
"We want our children to be useful and faithful servants who will one day hear that 'good and faithful' benediction too.  And although it is right and good that we desire these things, the truth is that none of us knows how God has ordained that we would glorify him."
Isn't that what we earnestly pray for as we sacrifice blood and sweat to raise these little humans we have been entrusted with, in the gospel of truth?
Glorified Through Our Pain
Unfortunately, we will not always get the "happily ever after" the way we intended it to come. "Perhaps the way that he's chosen for us to make much of him is through intense familial suffering."
It could even mean that our children begin to make sinful choices as they grow older and formulate their own relationship to God. Fortunately, the Lord has also promised to turn the foolish choices of our children (and ourselves, as parents) into something beautiful if we allow Him to take control of the sin we have created.
"As his children we long to make his glory known by our faithful obedience. That is a good desire, but a strong, successful family may not be the way he has chosen for us to glorify him. Perhaps his goal is that we glorify him by demonstrating weakness and even failure."
After referring to Paul's "thorn in the flesh" from 2 Corinthians, the authors point out that "God used Satan to keep Paul from the sin of pride." Paul's pain kept him from the pain that pride could cause him. God turned his pain around to glorify himself more! Thorns are painful, regardless, but a thorn that "takes the shape of a beloved child" can be one of the most painful.
Turn The Pain Into Praise
The writers pose a very poignant question: "If we spend our whole life trying to avoid that valley, how will we ever experience his comfort while he sustains us by his grace IN the valley?"
The truth of the matter is, God uses weakness. God uses ordinary. God uses the broken. Because in that "mess" He is the only one who can bring the peace in the storm. He is the only one who can bring light into the darkness. He is the only one who offers hope and GRACE.
"Everything comes from him;
Everything happens through him;
Everything ends up in him.
Always glory! Always praise!
Romans 11:36 (Message)
Your Turn
After reading chapter 9 of Give Them Grace, what do you have to say about the pain that surrounds us? What encouragement do you have to offer the parents of a wayward child? Do you have parenting pride to let go of in order to direct your children toward the grace of the gospel?
Share your thoughts in the comments below and in the Family Discipleship Facebook Group. Have you written a blog post on chapter 9 that you'd like to share? Please add it to the link-up! Add the permalink to your post on this section of Give Them Grace!
Teach Your Kids to Have a Devotional Time
Teaching your kids grow their own faith doesn't have to be difficult. Get this downloadable guide to help you teach your kids to have their own devotional time!