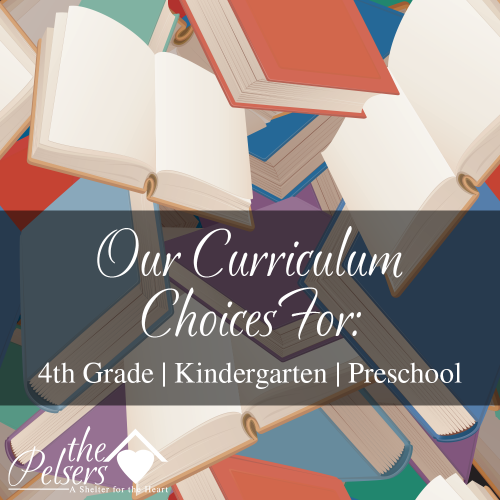 I usually post our curriculum for the year at the beginning of our school year, but this past year was a little crazy. I was pregnant with #4. We were searching for and then moved into a new rental. Needless to say, I never put together a list of our curriculum.
So what did we use this year? Read on to see what we did as a family and with each of my kids used this year.
Family
I try to keep the boys together for few of our core subjects. We do these things as a family and then notebook or add additional age appropriate activities.
History
We switched to the Mystery of History from Story of the World at Volume 2. This is our 3rd year with MoH and I love the way Biblical themes and an understanding of the interactions between world religions is intertwined with historical events. It really gives an understanding of world history at a level I feel I never received even in high school or college.
Science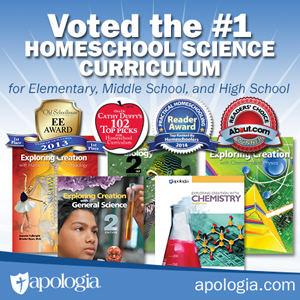 We love Apologia science. We've been going through in a days of creation sort of order. We've done Astronomy, Botany, and Flying Creatures. Next year will be Land Animals and probably Human Anatomy for the 6th year. Jonathan will jump over to middle school science on his own while we start from the beginning of the set again for the little boys. I will probably not use the Physics and Chemistry book for elementary unless I need an extra science year for Jacob at some point.
Worldview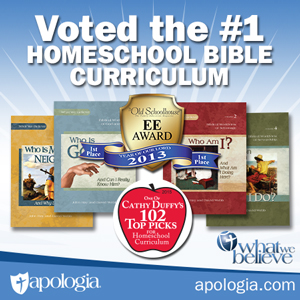 We've been using the We Believe series for 4 years. I can't believe we've reached the end! I plan to start over with the series next year. I'm excited that Apologia has added a Jr. Notebook for each of the books now too. On a four year cycle, my boys will go through these books 2 times by the time they finish middle school. This sets a great foundation for a Christian worldview and the bigger picture understanding of our faith.

Other
In addition, this spring, all of the boys are doing swimming lessons through our local parks and rec department. We wanted the boys to have at least basic water safety and swimming experience. This is the first time we've done an outside activity like this.
4th Grade
Bible
Jonathan has been reading through the Old Testament 2 chapters at a time. This is year two of that schedule. He uses my Bible Reading Journal to record his thoughts after reading. I did finally break down and buy a paper copy of the monstrous Webster's 1828 Dictionary for use in Bible and other subjects.
Math
We continued our use of Math Mammoth. Until this year, it has been a good fit for Jonathan. About 3/4 of the way through the year, we found that we was struggling with the format. He was at the point that needed a spiral math curriculum instead of mastery. He took a break when the baby came and did the Life of Fred intermediate books. I had been looking at Saxon and the DIVE videos for when we got to middle school, but we decided it was time to make the change now. We did the Saxon placement test and jumped into Saxon 7/6. We're taking it slow and doing every lesson, problem, investigation, and test. Jonathan will continue to use Saxon 7/6 next year.
Note: I figure out too late that the DIVE videos must be used on a computer. They won't work in your DVD player and they cannot easily be "ripped" to use on an iPad or other mobile device. For the next level, I will purchase directly from the company and get the iTunes University version which also includes the videos for computer. Then we will be able to use an iPad instead of a computer to watch the lesson videos.
Reading / Spelling / Handwriting

We've been using Pathway and All About Learning Press resources for years. We continued to use these this year. Pathway can be hard to find because it is designed for Amish schools and the publisher does not have their own website. Rainbow Resources seems to be the best price and carries the readers, workbooks, and teacher guides.
Kindergarten
Jacob has a fall birthday that is just after the Kindergarten cut off for the 2015-2016 school year. Because he's an early reader and showed readiness, we jumped into Kindergarten. Ah, the beauty of homeschooling – teaching at the level that your child needs no matter how their age and grade match or don't match public school timelines.
Bible
Jacob is an early reader, so I had him read through Zondervan's The Beginner's Bible. We use it regularly as a read aloud when the boys are little, but it's written at about a 2nd grade reading level. Jonathan read it for himself around this age, so I did the same for Jacob. When we finished, he and I started reading his NIrV Bible together, taking turns reading and discussing it together.
Math
Jacob showed interest in math and had already done at lot with Splash Math K on the iPad last year. We jumped into Math Mammoth and took it at his pace. He's been begging to start Life of Fred, so when we finished Math Mammoth for the year, we started reading Life of Fred together. I'll probably do a few of the elementary books each year with him as a fun supplement.
Reading/Spelling/Handwriting

Jacob used our favorite Pathway readers and workbooks with All About Reading to learn how to read. We've continued with these and moved on to the next level. AAR was new to us last year, but I really wish I'd had it when Jonathan was learning to read.
Preschool
Josiah isn't ready for much formal schooling at this point. He turned 3 near the end of this school year. We're causally working on basic preschool skills like letters, counting, and shapes. We're also reading a lot of stories together. Jonathan and Jacob both started reading around age 3.5, but all signs so far I'm guess that Josiah won't be ready to learn to read until at least closer to Kindergarten. Every child is different.
More Curriculum
Read more posts about what we've used over the years:
Questions?
Have a question about anything we use? Leave a comment! I'm happy to tell you more about anything we've used.