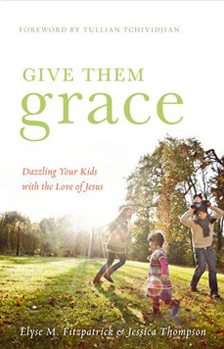 This week, we're in Chapter 10 of the Give Them Grace book club. To join us, all you need is a copy of Give Them Grace. After that, read these posts:
Book Club Announcement
Foreword and Introduction
Chapter 1
Chapter 2
Chapter 3
Chapter 4
Chapter 6
Chapter 7
Chapter 8
Chapter 9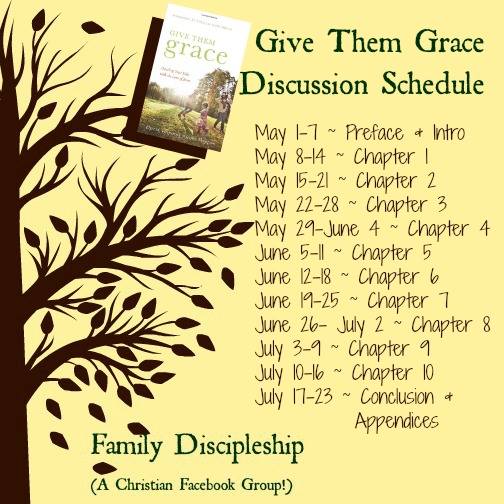 Join us in the Family Discipleship Facebook Group for more discussion throughout the week!
Give Them Grace. Such a powerful title for such an amazing book on parenting with the grace that has been given to us. The grace that we are to live in. The grace that we are to rest in.
We Need Grace
We need grace. We live in a fallen and sin-driven world. Each day I am reminded that I am not perfect. Not only do my children need grace in their lives, but I need to allow myself to have grace in my parenting. I need it every hour of every day.
As we parent our children – in both the good and the not-so-good moments – we need to remember that we need grace too. That we are fallen, sinful creatures saved by immeasurable grace. We need those moments I loved that the writers said:
To know that the Lord loves us and uses us for His glory and that He can save our children in spite of our parenting rather than because of it…..
I think, too often we get focused on us as the savior, and we need those moments where we find the grace to remember that it is Christ who does the saving. It is His grace – not ours. That we are in need of it just as much as our children. The burden is not ours to carry, and because of grace, Christ lifts it to His own shoulders.
God's Word Alone
Yes, we have just read another book on parenting. However, we have to remember that the Bible is THE book on parenting. You can read a thousand books and have a thousand ideas. Yet, the truth of the matter is we need to focus our homes on the Word of God. It needs to be the center.
Until the 1950s and 1960s, there really were not a ton of parenting books. Christian families sought the Word of God over the ideas of men when it came to how to parent.
We have been a generation that has been taught there is a way to fix everything. There are tons of books, blogs, and resources to get help on any topic under the sun. We live in the information age and if we are not careful, we can quickly go into information overload. While there is nothing wrong with looking for wisdom, we need to be sure we are always going back to the main source of wisdom – and that is the Word of God.
The Gospel of Grace – Again and Again
We need to read the gospel. Hear the gospel. Over and over again.
We have to remember as parents that the gospel is grace. If we are going to give grace to our children – we must drench ourselves in the grace of the gospel. The only way we will give grace is to have it pouring out of our lives – and we can't give what we don't have. Not only do we need to read it – but we need to grow in it.
We need to remember that we are going to fail, but that we need to continue to get back up. The more we comprehend the grace we have been given, the more it will transform the way we are parenting our children.
Share your thoughts about this amazing grace in the comments below and in the Family Discipleship Facebook Group. Have you written a blog post on chapter 10 that you'd like to share? Please add it to the link-up! Add the permalink to your post on this section of Give Them Grace!
Teach Your Kids to Have a Devotional Time
Teaching your kids grow their own faith doesn't have to be difficult. Get this downloadable guide to help you teach your kids to have their own devotional time!