Did you join us for the Family Discipleship Facebook Group discussion of Give Them Grace this summer? If you did, thanks for joining us. We hope you got a lot out of the book and discussion. If not, you can go back and read our posts and continue to talk about the book in the Family Discipleship Facebook Group.
Now we have a special surprise to end our discussion of Give Them Grace…
Pointing our children to Jesus Christ is the most important thing we can do as parents. Having the good news on the tip of our tongue at all times is a powerful way to do that. Sometimes it isn't easy. At the very least, it takes intention and a clear view of the gospel in our own lives so that we can present it to them at each turn.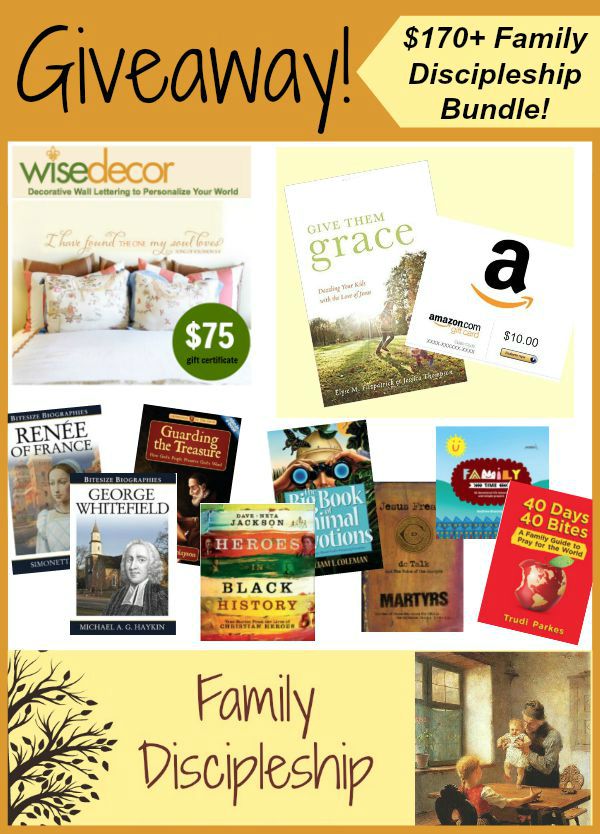 Our discussion of Give Them Grace: Dazzling Your Kids with the Love of Jesus by Elyse Fitzpatrick and Jessica Thompson has been a truly sweet time of hard questions, great discussions, and a recommitment to guiding our children in the light of God's grace.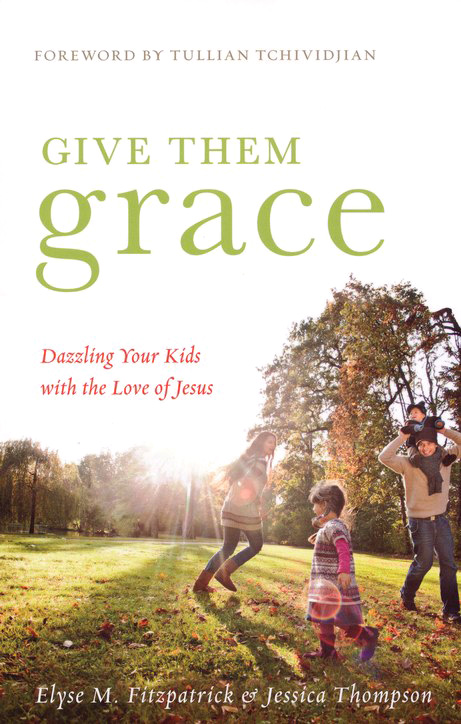 If you feel like you missed out, don't worry! You can join the Family Discipleship Facebook group, read Give Them Grace, and check out the posts written throughout the series by two of our admins: Danika at Thinking Kids and the writers with Amanda at Kids in the Word.
Did you join us in the Give Them Grace Study? Or perhaps you are simply a parent who desires to honor God in your home and parenting? It is a worthy task and we stand beside you in that effort!
To celebrate completion of the book and to bless you in your parenting journey, the Family Discipleship admins have put together a great giveaway for you! We are joined by some wonderful companies in this effort and we truly appreciate their support: WiseDecor, Christian Focus 4 Kids, Bethany House, and EP Books.
Look for more studies and encouragement like this one by joining the Family Discipleship Facebook group!
$170+ Family Discipleship Giveaway Bundle
$75 Gift Certificate at WiseDecor
Winner's Choice: Give Them Grace paperback OR $10 Amazon Gift Card
Family Time: 82 Devotional Life Lessons and Simple Prayers ~ Christian Focus Publications, $7.99

40 Days 40 Bites: A Family Guide to Pray for the World ~ Christian Focus Publications, $7.99


The Big Book of Animal Devotions: 250 Daily Readings About God's Amazing Creation ~ Bethany House, $13.68

Heroes in Black History: True Stories from the Lives of Christian Heroes ~ Bethany House, $12.91


Guarding the Treasure: How God's People Preserve God's Word (Biography) ~ Christian Focus Publications $9.86

Renee of France (Bitesize Biographies) ~ EP Books, $11.99


Bitesize Biographies: George Whitefield ~ EP Books, $8.57


Jesus Freaks: Martyrs: Stories of Those Who Stood for Jesus: The Ultimate Jesus Freaks ~ Bethany House, $13.68
Enter to Win the Giveaway!
Giveaway ends 11:59PM on 8/21/2015. Winner will be notified via email and have 48 hours to respond to claim their prize before another winner is chosen.
Teach Your Kids to Have a Devotional Time
Teaching your kids grow their own faith doesn't have to be difficult. Get this downloadable guide to help you teach your kids to have their own devotional time!